#UnofficialSelections was…
A daily updated mural documenting the most memorable moments that happened in Toronto between September 7th and 17th.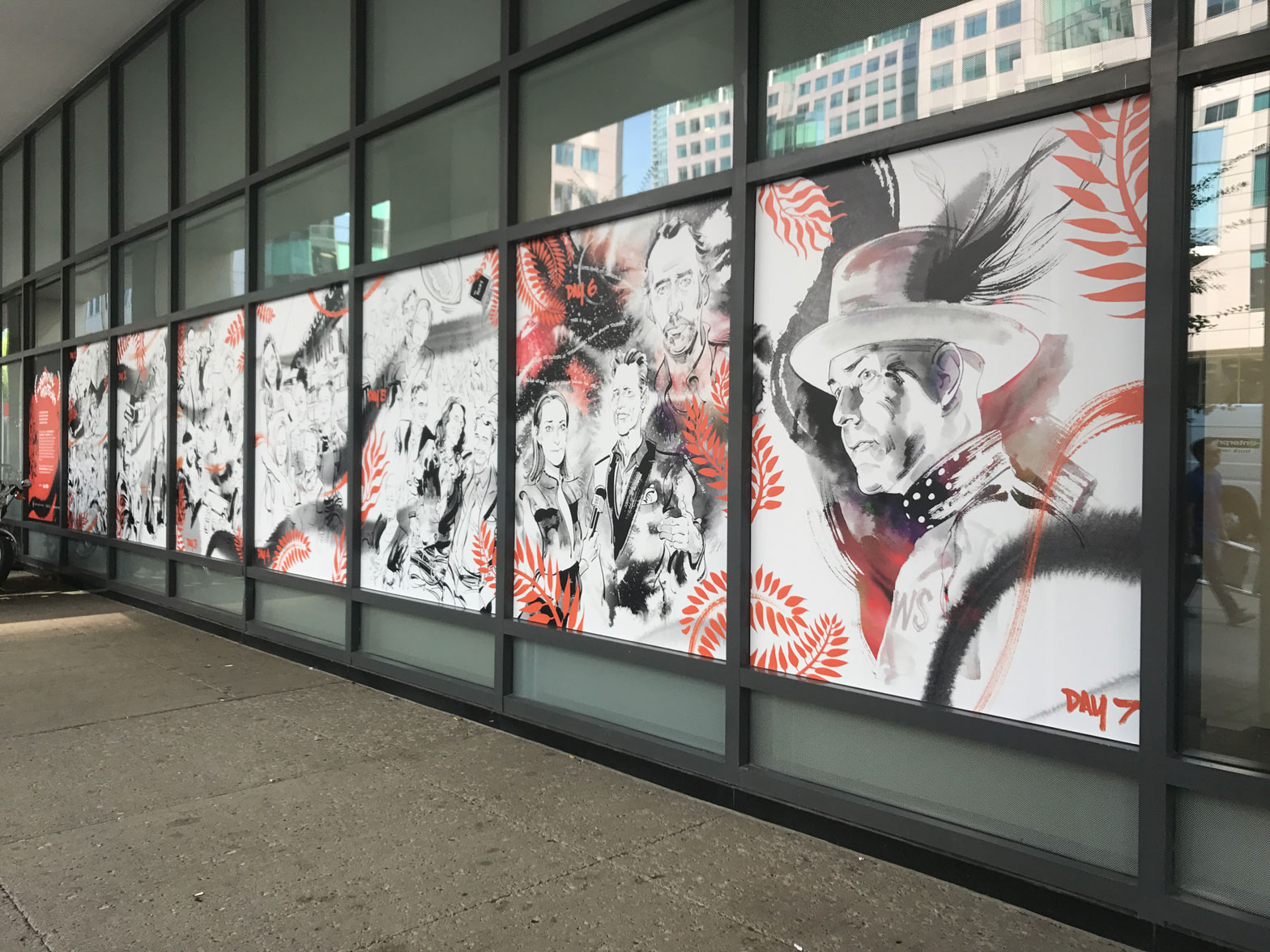 Our family of agencies – @bensimonbyrne + @narrativepr + @onemethod – share a different perspective, not only on creativity in general, but on any and everything that happens in our city. And from September 7th – 17th, a lot happened. Our proximity to all the action and our passion for all things creative place us in a unique position to process all the stories that unfold. So we partnered with Kagan McLeod – the absurdly talented illustrator possibly best known for blessing the hip-hop world with The History of Rap – and we set out to select the most memorable moments over 8 crazy days in Toronto and then add it to an ever-evolving live mural.
Here's how the 8 days unfolded…
DAY ONE

Day 1 brought the battles. And so our first set of selections follow suit. We saw Borg battle Mcenroe, headbands and all. We witnessed Twist try to body Madness on the mic, with the Slim chance of seeing Eminem being squashed. We followed along as festival goers encountered an escalator that temporarily turned into stairs. And we also glimpsed the battle of the babes, Armie Hammer, Hunnam, and Timothée Chalamet. Notable spectators included a cocktail sipping Drake, a show-stealing Grace Jones, and really the whole city of Toronto as we took in the first of eight event-filled days.
DAY TWO

Day 2 was all about perfect pairings. There was Gaga with that piano, all 5 feet and 2 inches of her. There was Gyllenhaal with that puppy, showing the softer side of being one of Hollywood's stronger men. And then there were the gaggles of gawkers, who really do make the stars as celestial as they are.
DAY THREE

Day 3 hailed to the King Effect. The kings of the court – LeBron and Le Bosh – grabbed dinner with the king of the city. The king of the coast – Kendrick – grabbed the mic. And the king of Hollywood himself – Gorgeous George – grabbed an endearing embrace with our new favourite fan.
DAY FOUR

The royalty theme continued from kings to the queen as the Breadwinner herself took over the red carpet with (most of) her brood and went on to capture Toronto's hearts and hashtags.
DAY FIVE

Day 5 was dedicated to dames, damsels, and disasters. The Franco show was in full force, bringing long lines, flying footballs, and impromptu screenings. The show however did not bring fellow artist Seth Rogan, who was busy sending shots on Twitter. And while James was playing Tommy, Javier masqueraded as Jennifer. Oh, and Judy Dench played with a mini fidget spinner.
DAY SIX

Day 6 taught us that you can't cage the carefree as Cage and Carrey faced off for the most entertaining interview award. It's true what they say, one really must look to the stars to find the deeper meanings in life.
DAY SEVEN

Day 7 was entirely given to Gord. While the word tragically has never meant so much, the seventh day was all about celebration as our city celebrated a national icon, a local legend, and a musical genius that has spent a long time running the sound of Canada. 🌿🌿
DAY EIGHT

'Twas a week of memorable moments in Toronto. There was rap battles and puppy pairings, kings of the court and queens of the screen. There were Francos, the funny and freakish, and a tribute to a national hero. As the 8 days finish, we're back on the starting line as the race for Oscar begins.
Thanks for following our journey of #UnofficialSelections with @BensimonByrne, @OneMethod, @Narrative and @kaganmcleod. Until next year.