When you turn 16, lots of interesting things happen…
You probably drank a little too much. You legally can start having sex. And you likely started to look a little more growns up. This year, OneMethod turned 16, and while we plan on doing all of the above, this article is mostly about that third thing.
The brief for the rebrand went something like this:
Bawseman: We're thinking about doing a brand refresh. Cool?
Designerman: That's awesome. When can we brief it in?
Bawseman: We just did.
And the truth is, when you are the brief, you might not actually need one. But for all those that don't know where we came from, what we stand for, and how we've evolved since we last undertook this undertaking…
► We came from a condo in Mississauga, a simple start with unknown and unrealistic goals.
► We stand for creativity and family, a collection of people with a collection of skills that make all sorts of stuff.
► We've spent a lot of the last decade honing our entrepreneurialism, not only starting actual companies but also instilling the idea that every employee is a CEO.
In addition to all that, we've simply matured. A touch. And while our new office hasn't entirely abandoned graffiti or stuffed animals or orange, they are certainly scarcer than previous incarnations. So with all that packed in, we set out rebranding. The first few rounds yielded some nods, but the overall impression was that nothing new was trumping the old, and so we may need to revoke our rebrand. Instead, we simply took a break, or got busy, or whatever, and when we returned to the challenge, something started to stick.
We like to pull things apart and put them back together…
This would ultimately be what helped us find our way.
More specifically, we liked the idea of creating an icon that merged '1' and 'M' together in a way that kept the character intact so we could swap it for the 'M' in 'Method'. This would keep the lockup really clean and avoid us having to float an icon somewhere around a separate wordmark. While we were chopping up letters and shapes, trying to find a solution, we noticed how interesting some of the parts looked on their own and what those parts could stand for in a larger brand system. This was kinda what unlocked everything and pointed us in a direction we could finally run with.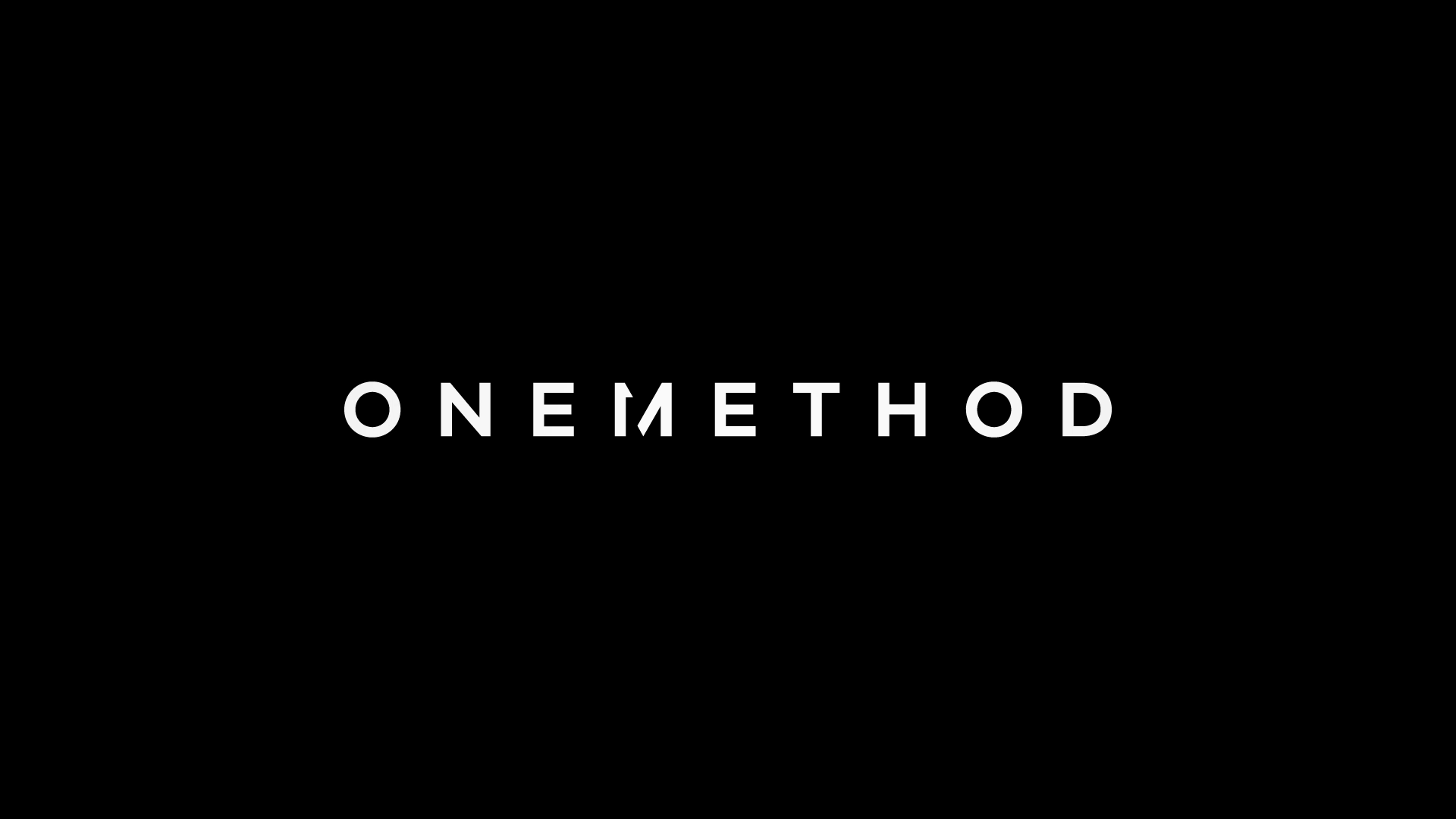 Once we landed on a final wordmark we pulled the whole thing apart again to create a library of unique artifacts – actual pieces of the new logo. These would come to represent what OneMethod is all about, a bunch of different folks with different skillsets, that fit together under one method to create creative things.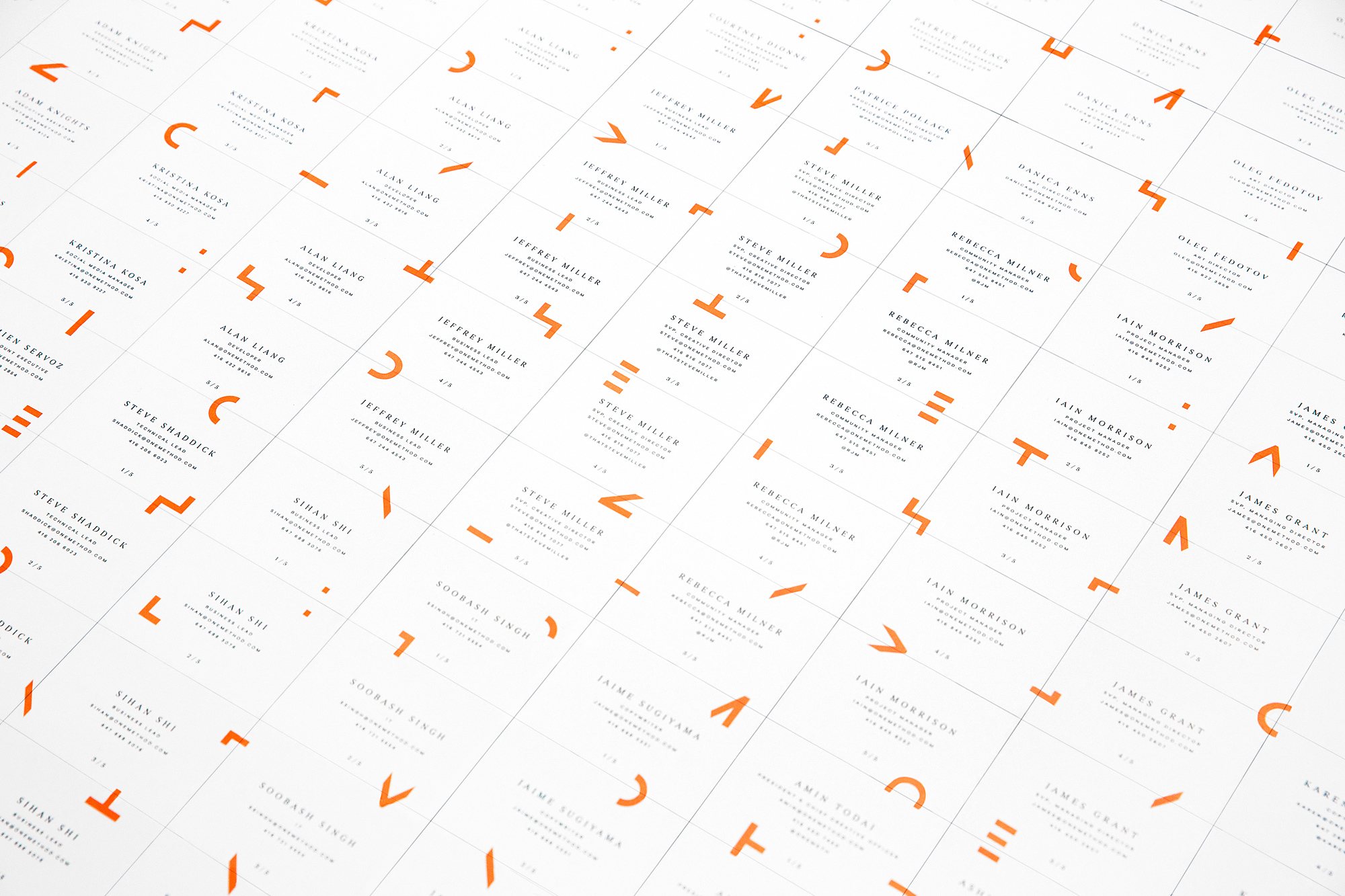 And with that, the artifacts became the root of our new branding system. In just a few months we have woven these bits into all the things. From massive decals on our shared office spaces and tiny patterns subtly stamped onto our word docs and Keynote templates, to notebooks, business cards, a pressed vinyl mixtape, and even custom basketballs for our new court.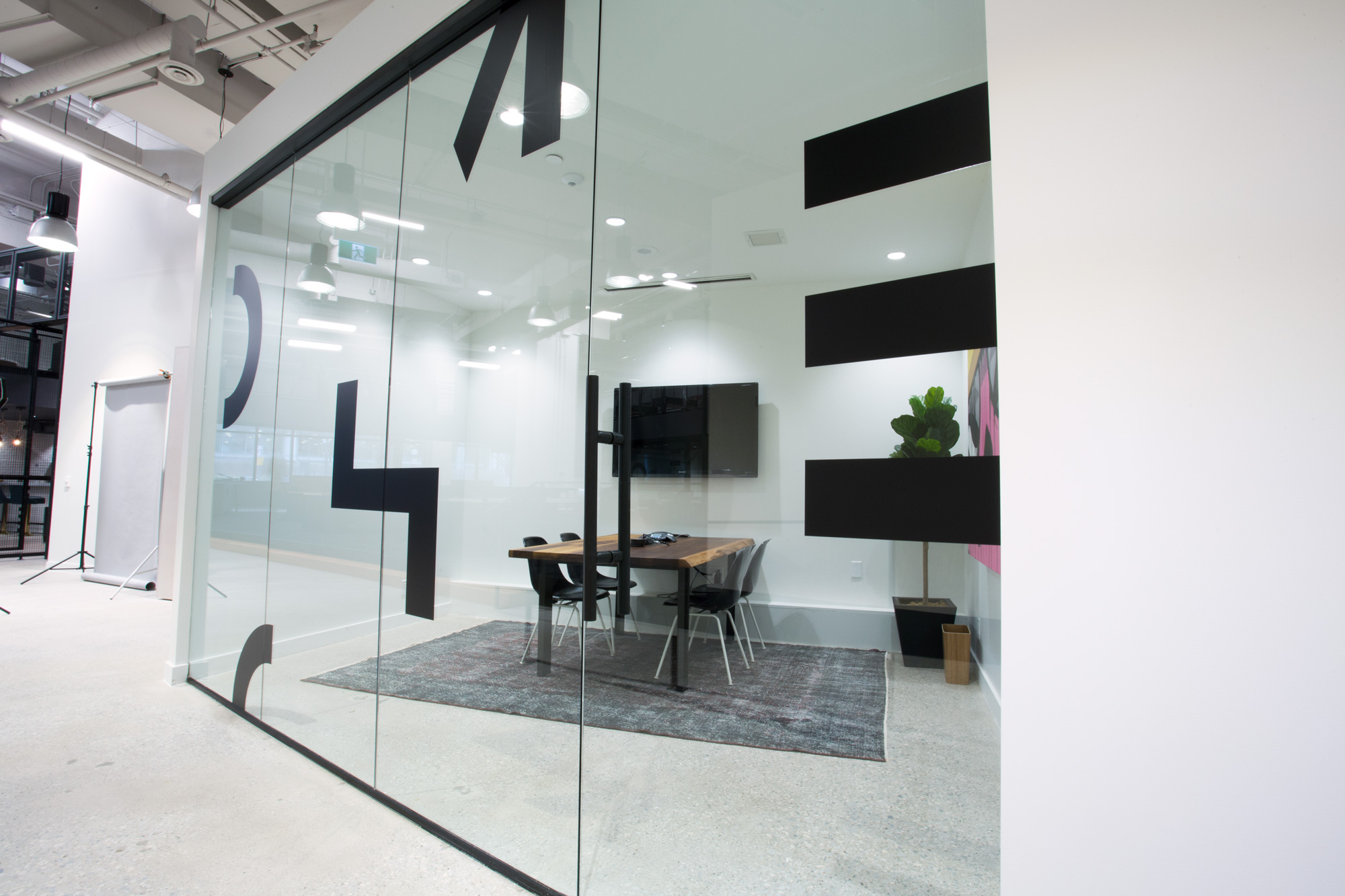 In terms of digital, the entire system begs to be animated. Once we "briefed" in our XD (experience design) division, they not only figured out a way to have the logo seamlessly animate on scroll for both mobile and desktop, they also devised a way to create all the shapes in browser, masking out dynamic images in the body. All in all, it's a super lightweight and fast loading application of our new look.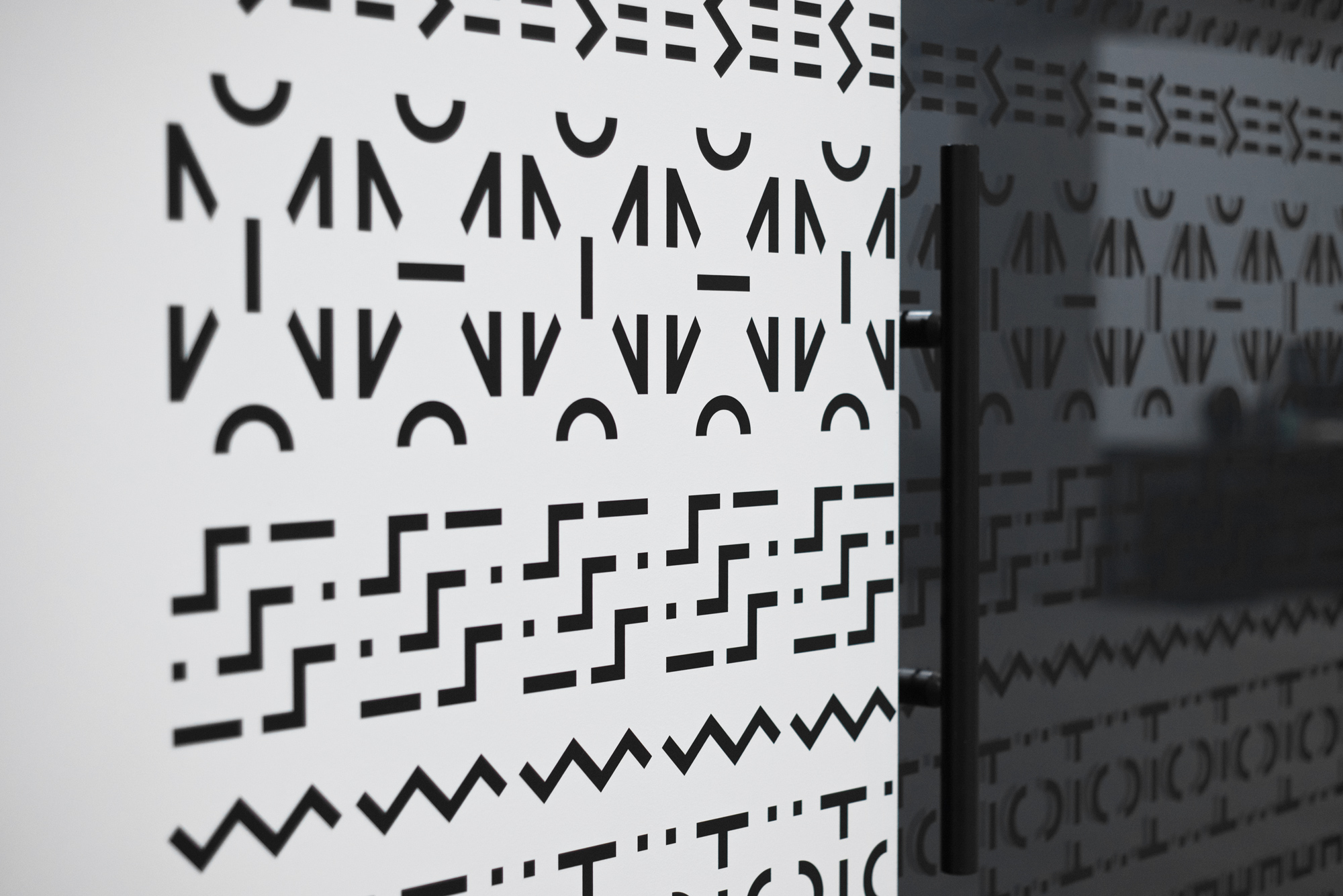 Looking IRL next, as we tend to do…
We expanded the system across all the actual things.
For the business cards we avoided the traditional approach where everyone ends up with a box of 498 cards in their desk, one in their wallet, and one in your parent's hands after you went home for the holidays and tried to explain how selling fish tacos has anything to do with advertising or design. Instead, each person got 5 cards and they have to decide who is sponge-worthy. Each card is numbered out of 5 like an art print, and each card across the entire agency is entirely unique. They then all form like a puzzle, aligning to other cards where artifacts are cropped/connected at the edges. We also created the aforementioned notebooks, three different colours with three different paper styles each coming in two different sizes. Oh, and we made a basketball, because basketball.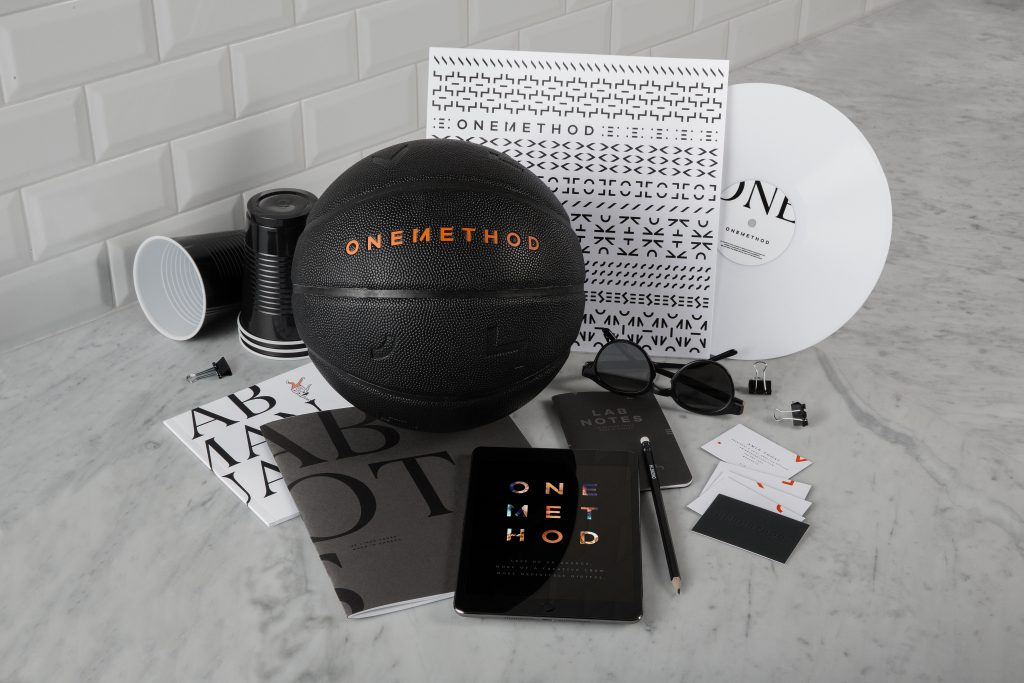 That's it for now…
But tbh, we're already extending the system into other spaces.
Currently, we're trying to use the artifacts to demark our gender specific and gender neutral bathrooms. But to see how that plays out, and all the other places our new visual identity spills into, you'll have to drop by.