Remember that thing where people drew popular logos from memory? It was clever, educational and overall, fantastic. So, OM did it too! But this time, using only our beloved client logos. We're all so used to seeing them. Be it in our content calendars, client presentations or simply our local grocery store. We even make ads and content specifically for them. While our account team stares at them daily in spreadsheets and email signatures, and our creatives practically sleep with them, the question remains: how well do we actually know these colourful symbols and letterforms and how hard is it to draw a logo you see every day? As it turns out, they're extremely difficult to recreate without looking at them.
The Challenge
 "How accurately can we recall client logos we see on a daily basis?"
To find out how well the OneMethod fam can recreate client logos, I asked 35 team members to draw 13 of the most iconic ones from memory as accurately as they could, with a loose time cap of 1 minute per logo. Based on more than 450 drawings, the results revealed that without any visual aids, it's really, really hard to accurately replicate the shapes and elements of what's in your memory. Participants realized that, often, they simply glance at logos without noticing the details that make them up – apart from brand colours, which are substantially easier to recall. It's even harder when a brand's logo has changed over time. So, which teams did super well? And who really botched it? Check out the results below:
To help illustrate the range of logos our team made, we borrowed from the original article's .gif style to depict the logos in realistic context.
Nestlé
We started with a banger, the iconic Nestlé logo, which proves difficult because the accompanying illustration is quite detailed and can be excluded in certain applications. A couple of people leaned back in time to previous versions of Nestlé's logo history, and a bunch of people commented on not knowing how many birds, eggs or branches made up the nest.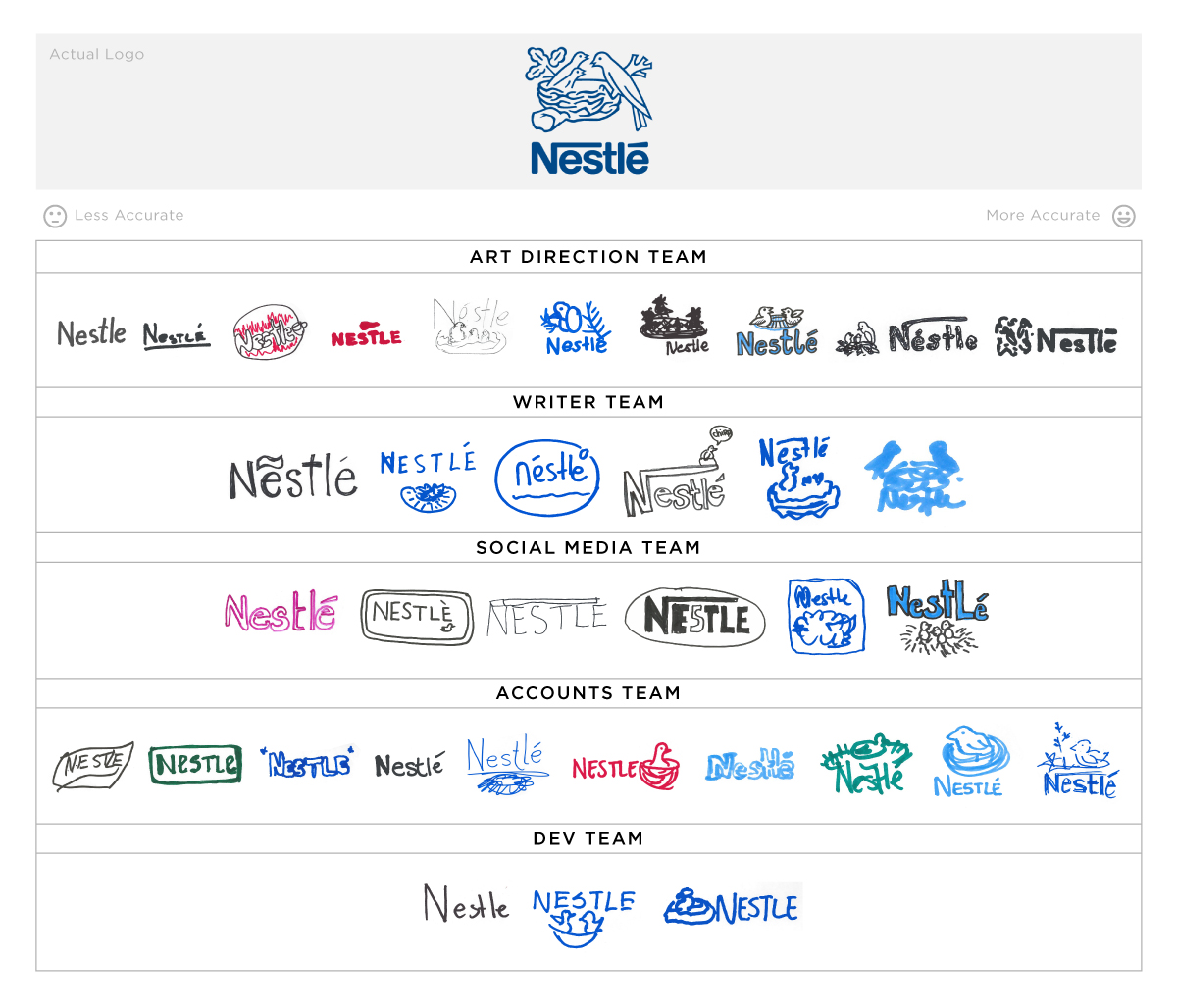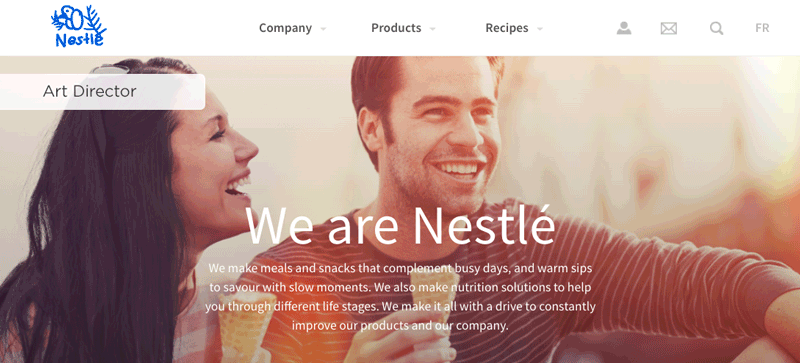 La Carnita
"Oh fuck this" was a popular response to this challenge and as such, it was an entertaining one to watch. As the mediator, I was immediately faced with a few sighs, a few "oh shits" and a few withdraws from trying. Most people knew to draw the skull – but the details inside it was a blur. A few people did a great job of replicating the cursive lettering featured on the restaurant wall.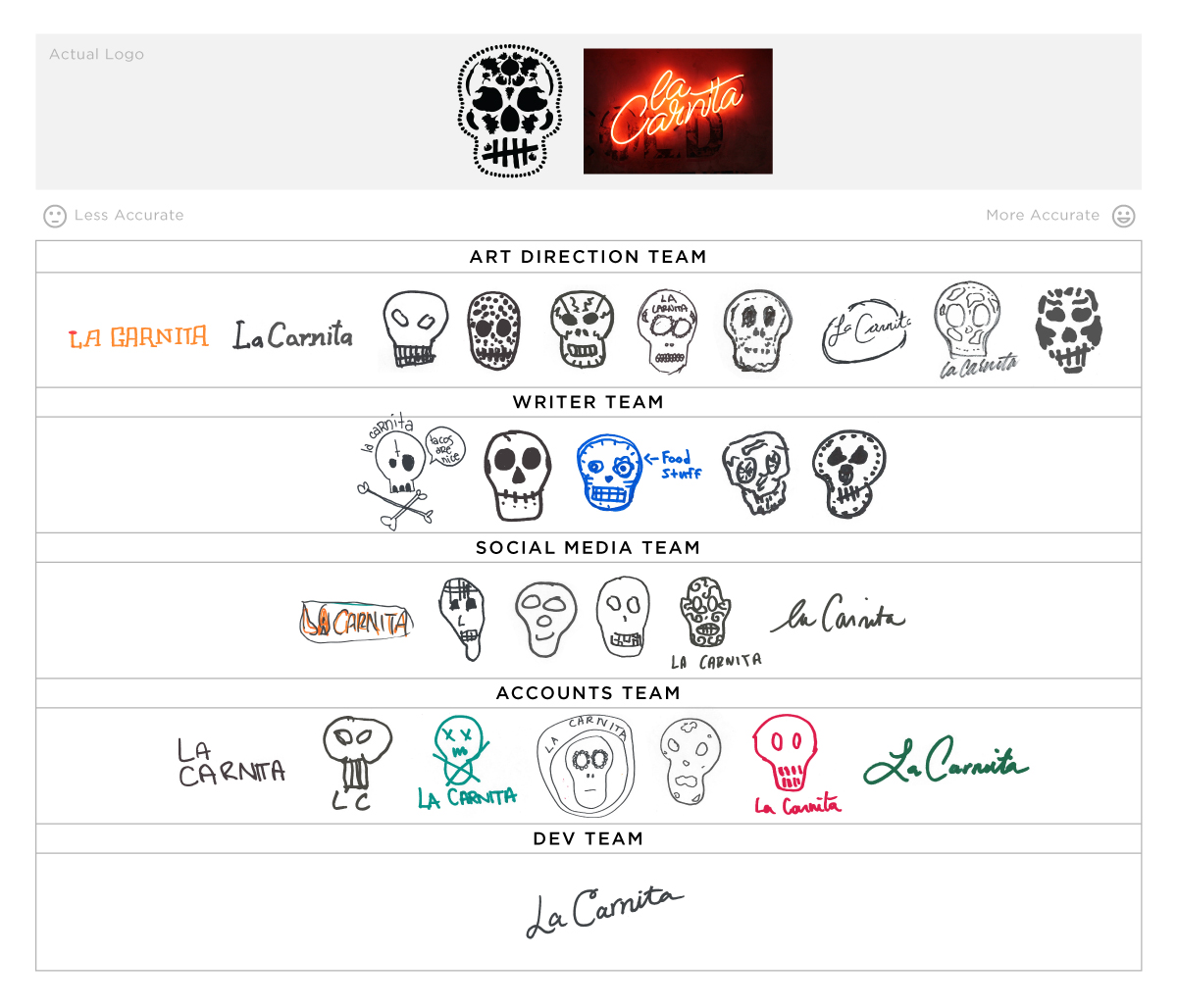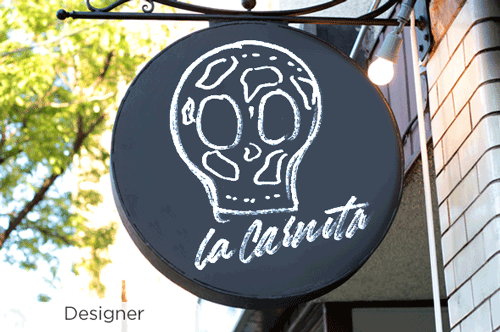 Häagen-Dazs
Spelling is hard. The Häagen-Dazs logo was 99.9% of the time accompanied by "Oh no, I don't even remember how to spell that?!" Two a's with two umlauts? Is it a Z or a S, or both?! I never expected so many spelling variations. Overall, props to the account team for knowing what's up.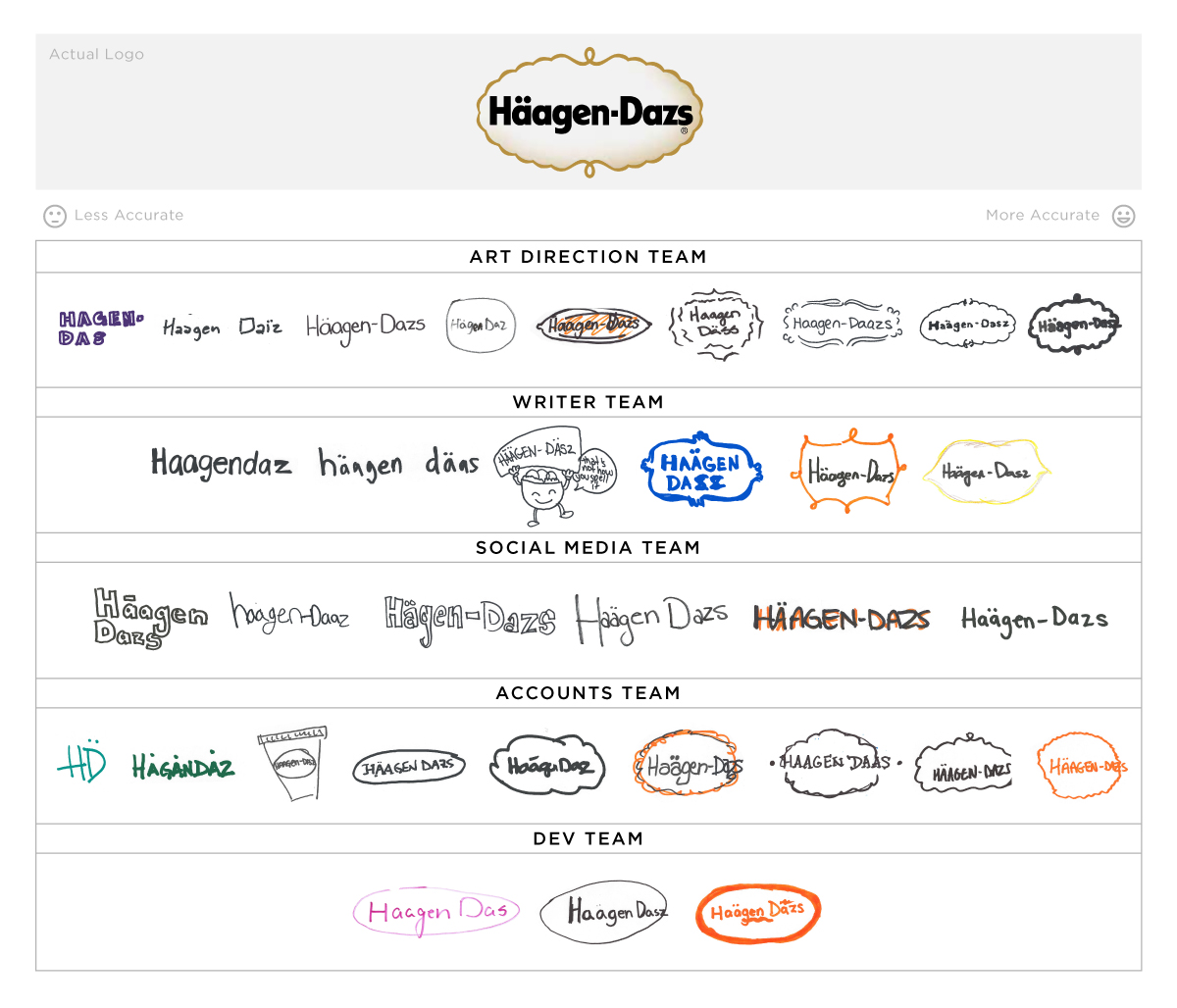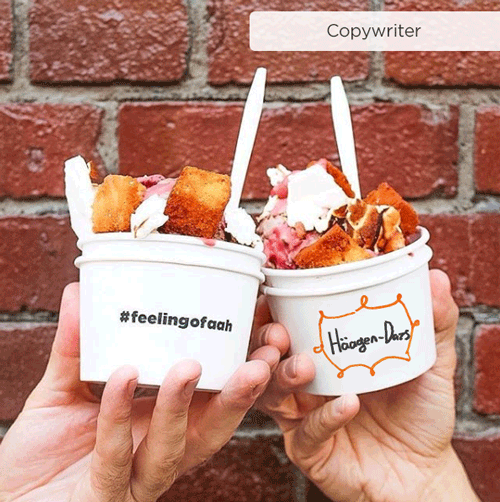 Sweet Jesus
"Oh I know there's lightning, but where does it go?!" This one was interesting. Colour recall was immediate for many, but the lightning and cross symbols were either often misplaced or forgotten all together. 12% of people invented ice cream cones.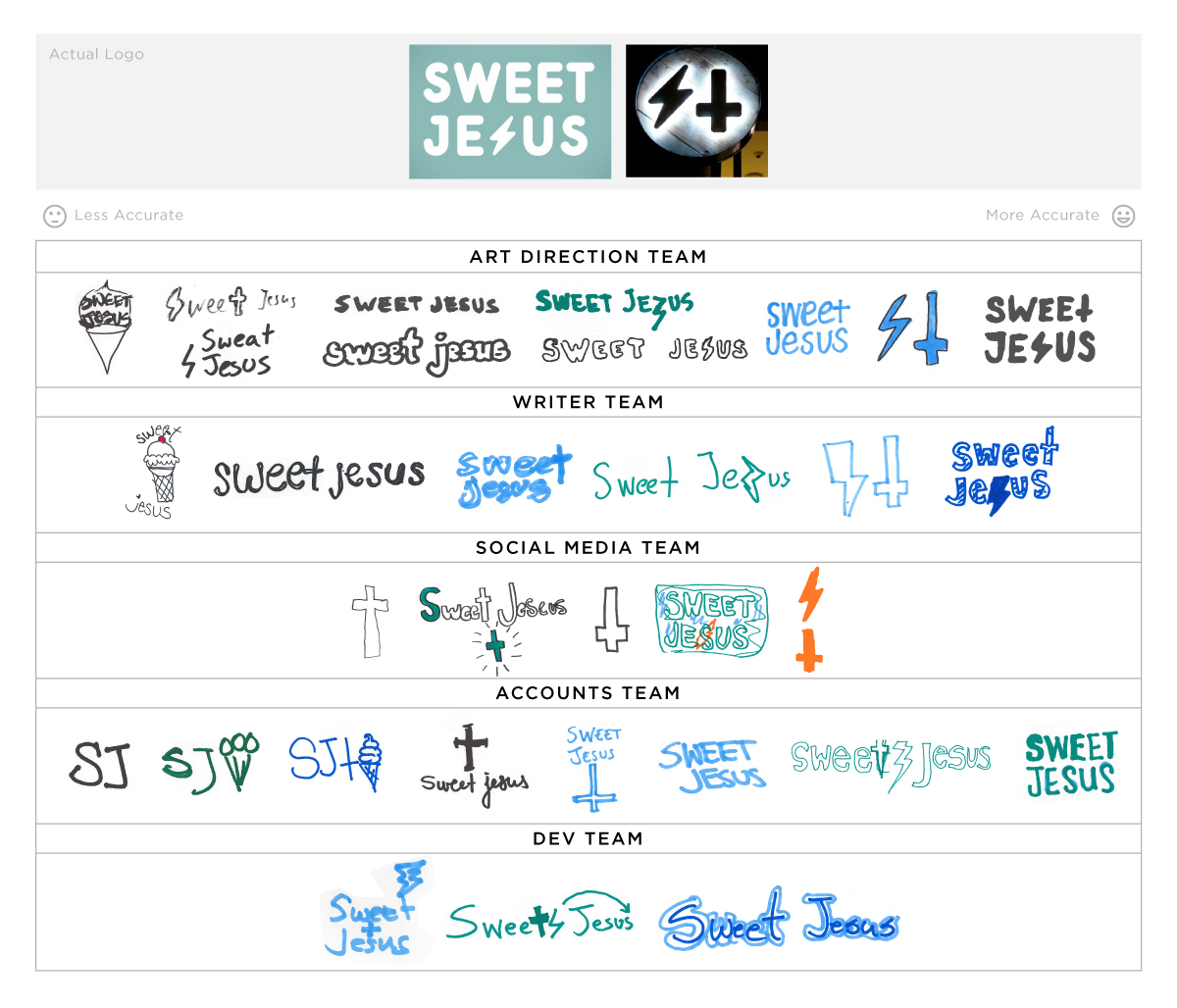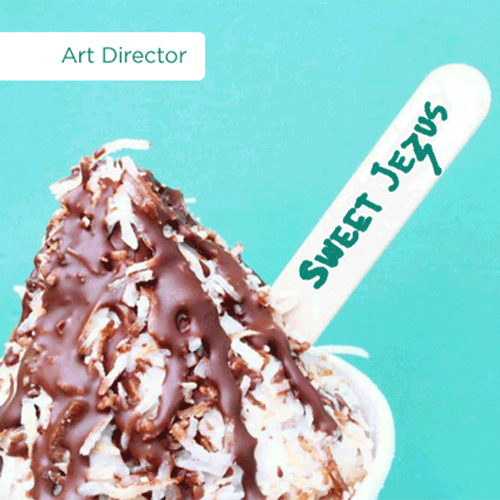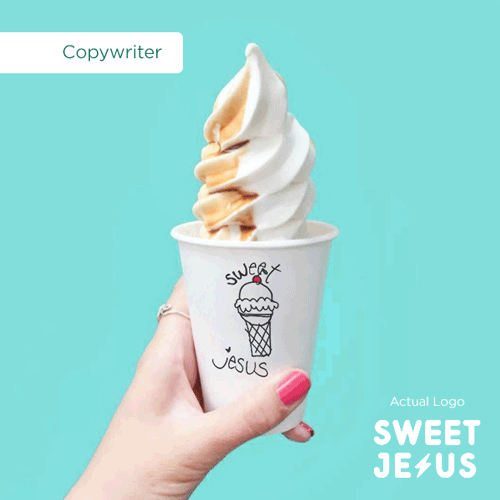 Kijiji
A playful, colourful logo, that stumped a bunch of people – Does the colour combination come from the letters themselves or just the circles on top? Unless you're literally working with those verticals daily, it was hard for people to know which colours should be featured.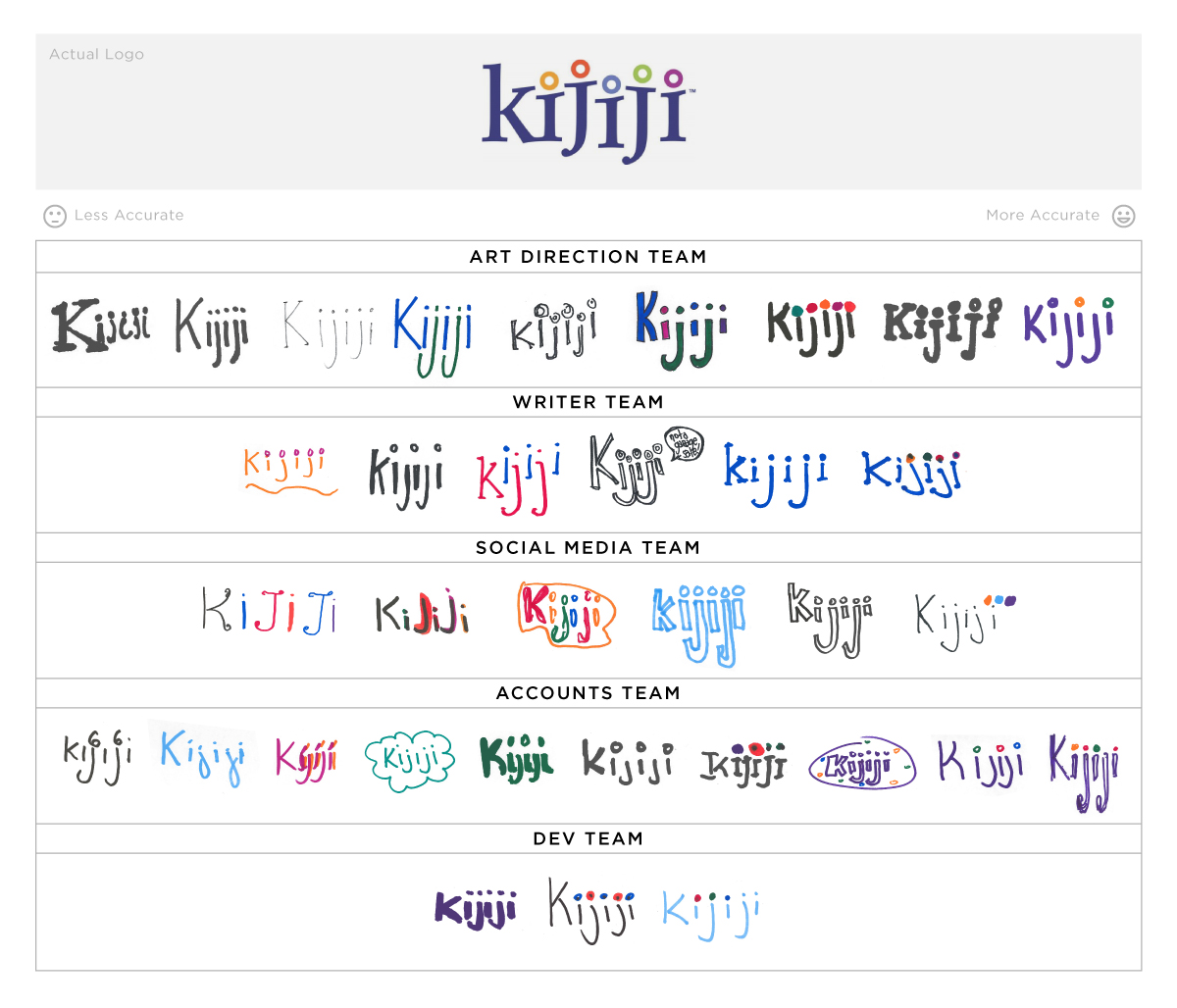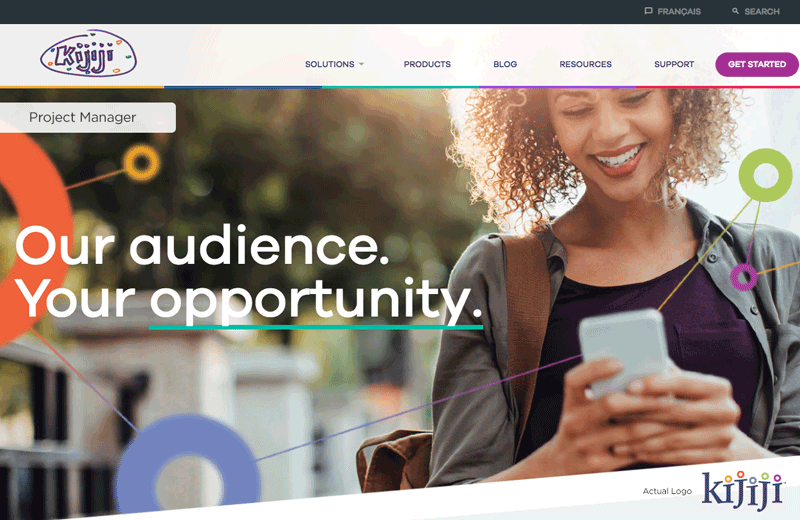 KITKAT
The red colour was on point, and 8% even remembered the little Nestlé icon. Most people did not apply the overall circle, though. Interestingly, 20% of people also were very sure of the dash between Kit and Kat, even though there is none.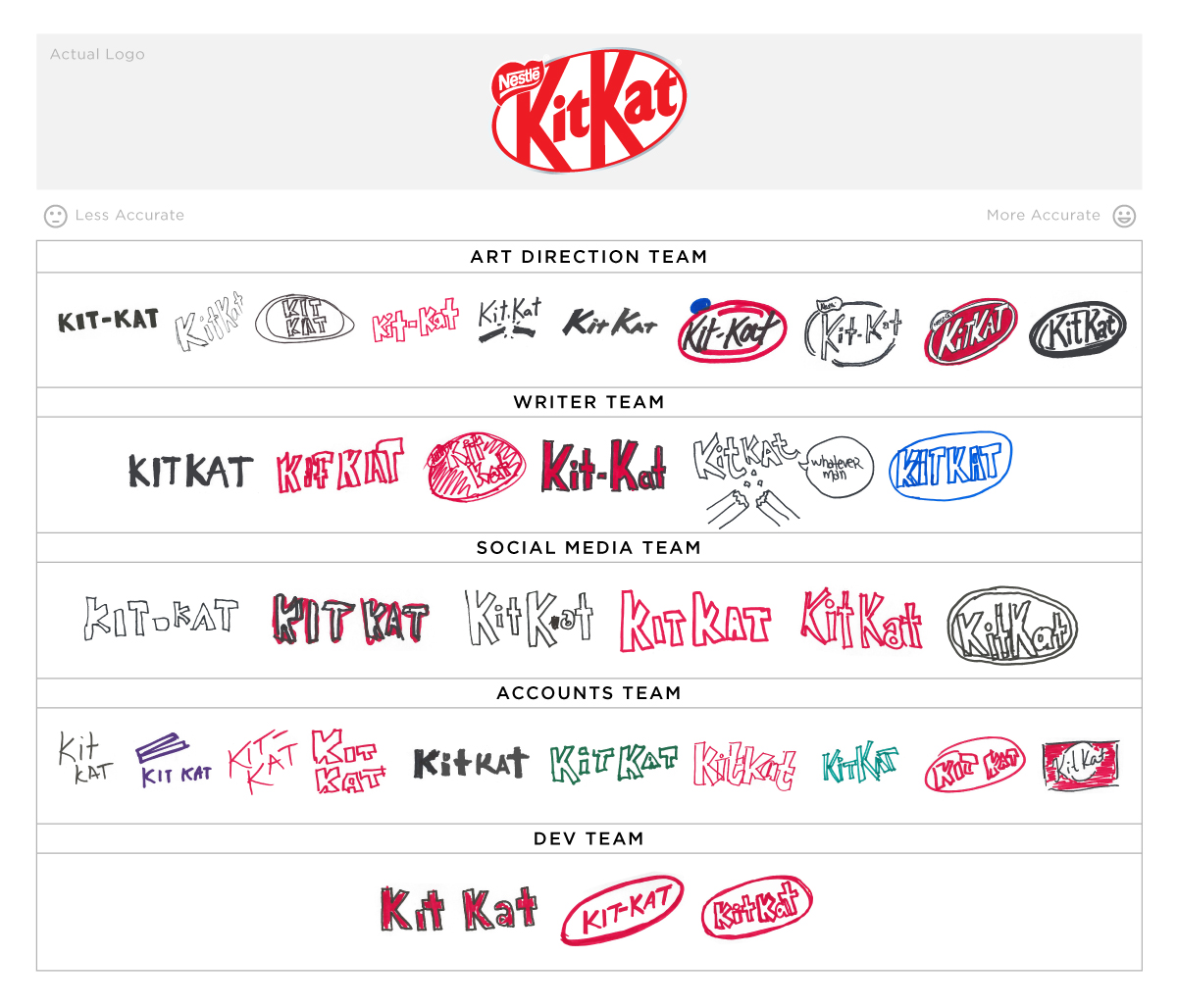 Aero
Most people were very certain about the usage of bubbles, but not certain about the location of where they go. Others brought up Aero's typographic similarity to Smarties. The 'A' was often the most dominant letter, even though, in actuality, the O is bigger.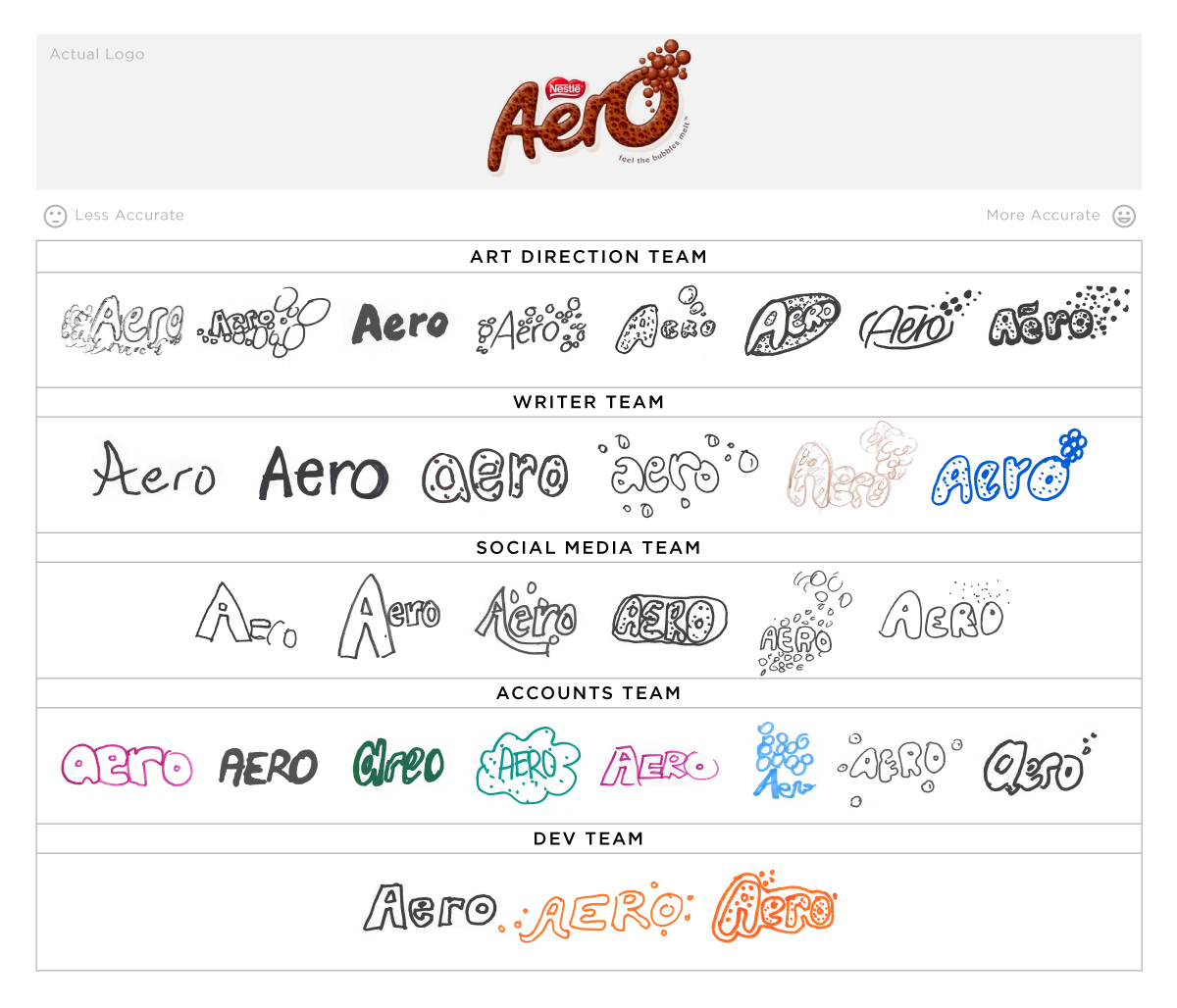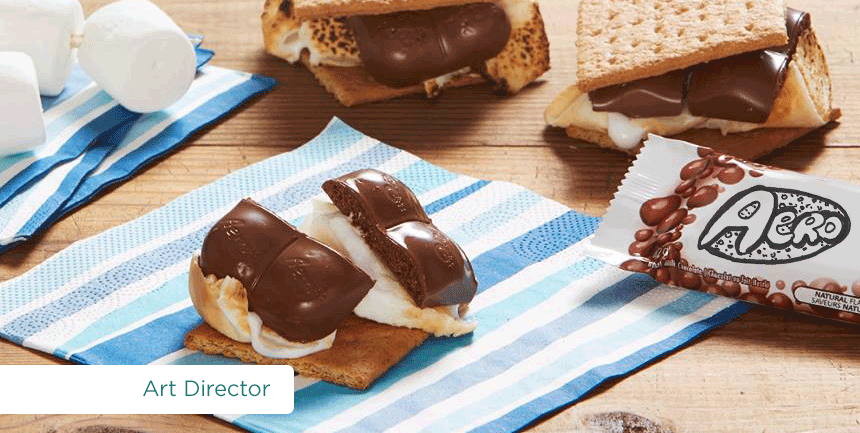 Smarties
Overall most people did really well with the slanted bubble letters. Some introduced rainbow colours, and lentils, and even the packaging box.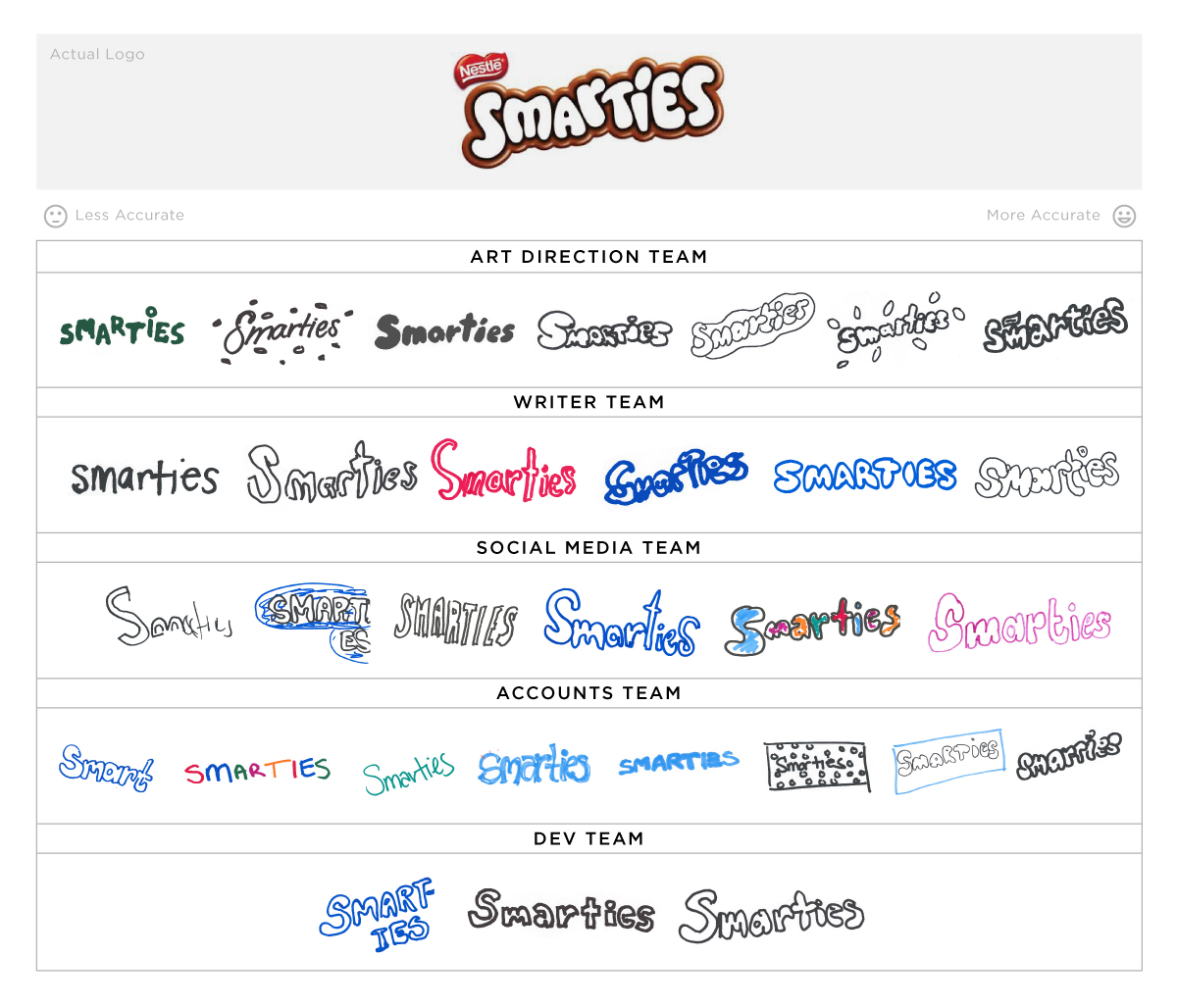 Nike
A classic tick. Everyone knew this one, and 35% even went as far as to add 'NIKE' to the tick. Easy peasy.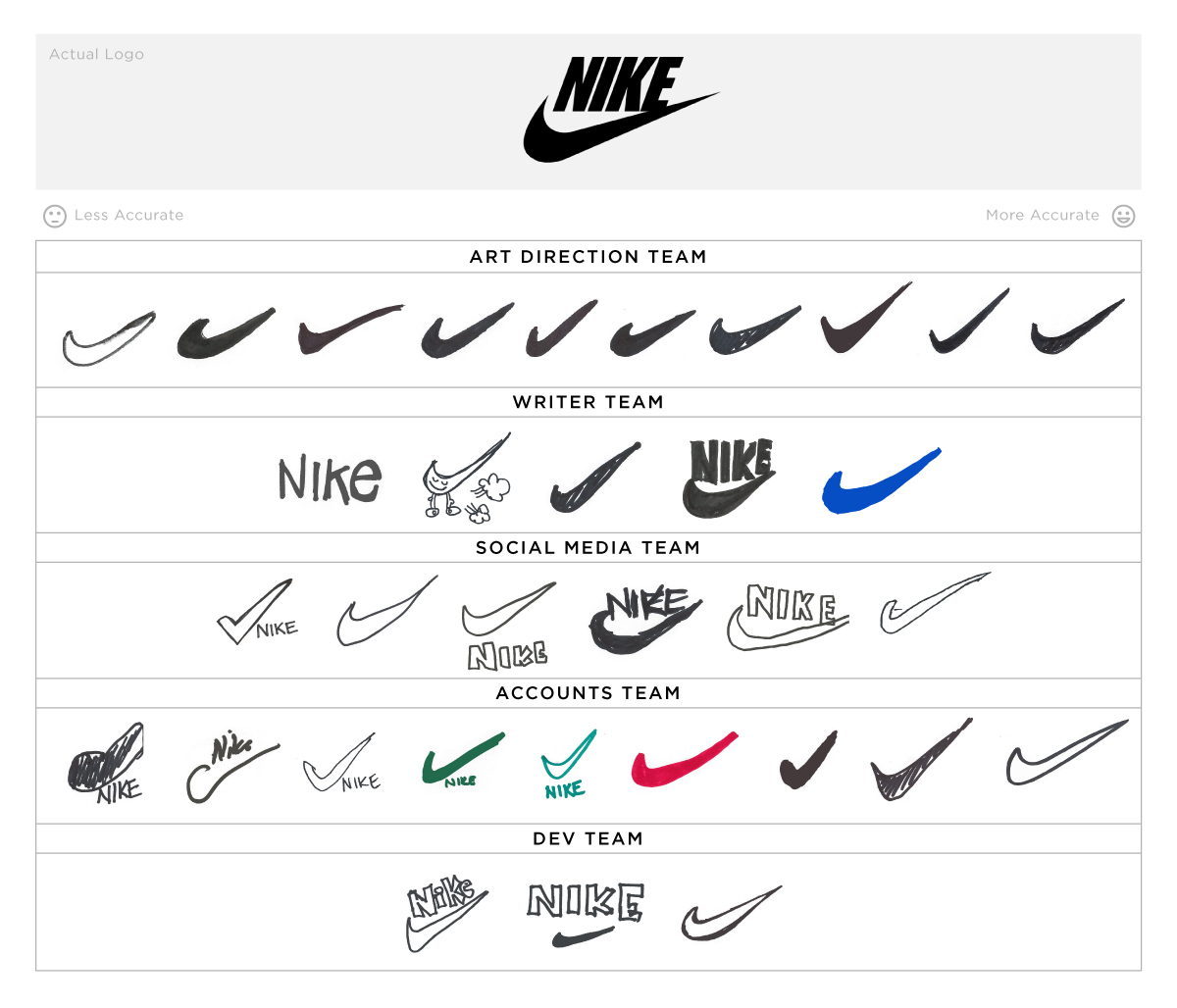 CFL
Many knew the logo had some form of football shape in it, but the small Canadian flag was forgotten by 75% of OMers. Unsurprisingly, the original designer of the logo dominated this one.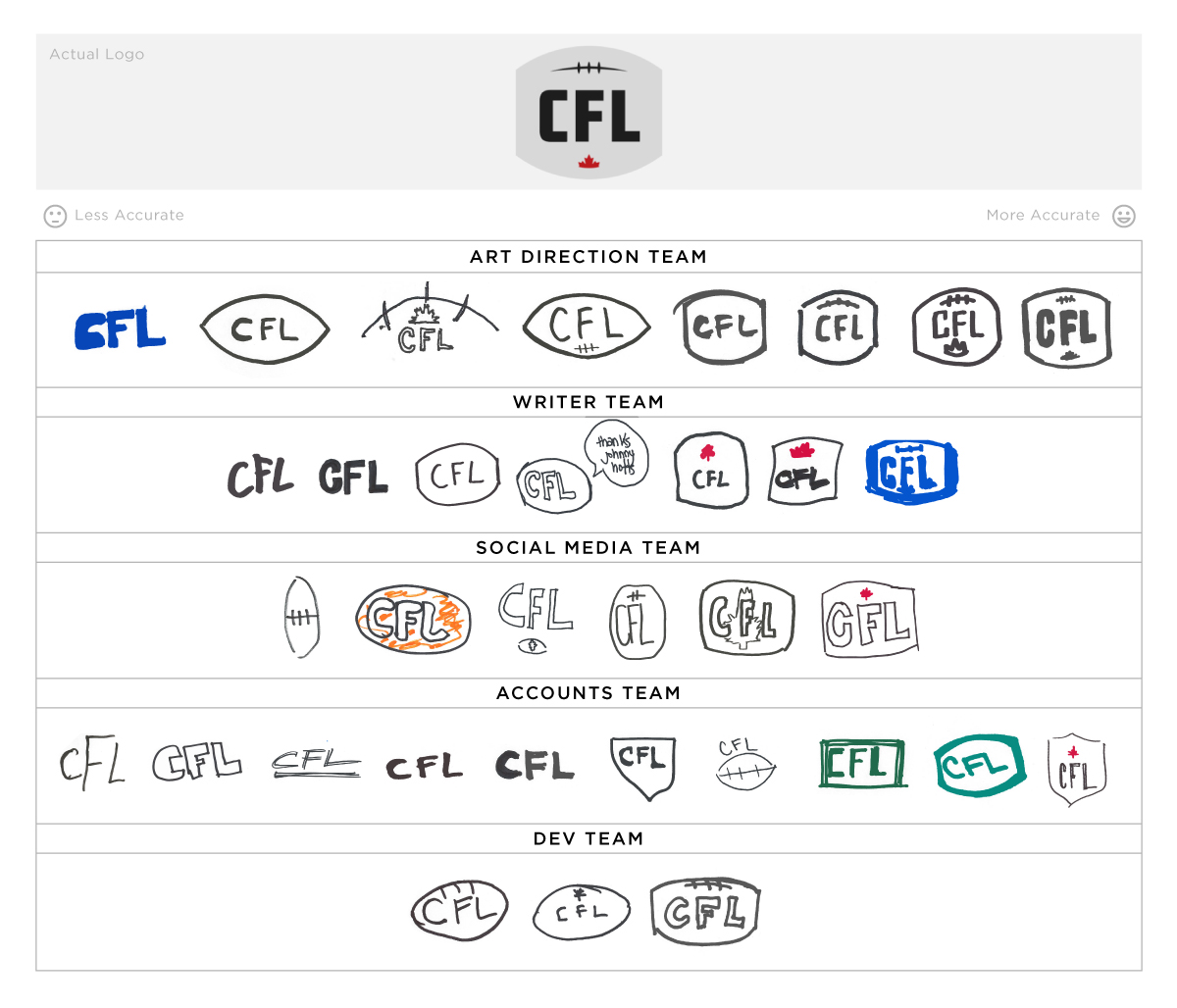 Boost
Most people did recall a typographic slant, but only 20% remembered the little orange guy in the logo. Similarly to Nestlé, some people leaned back in time to older logo iterations.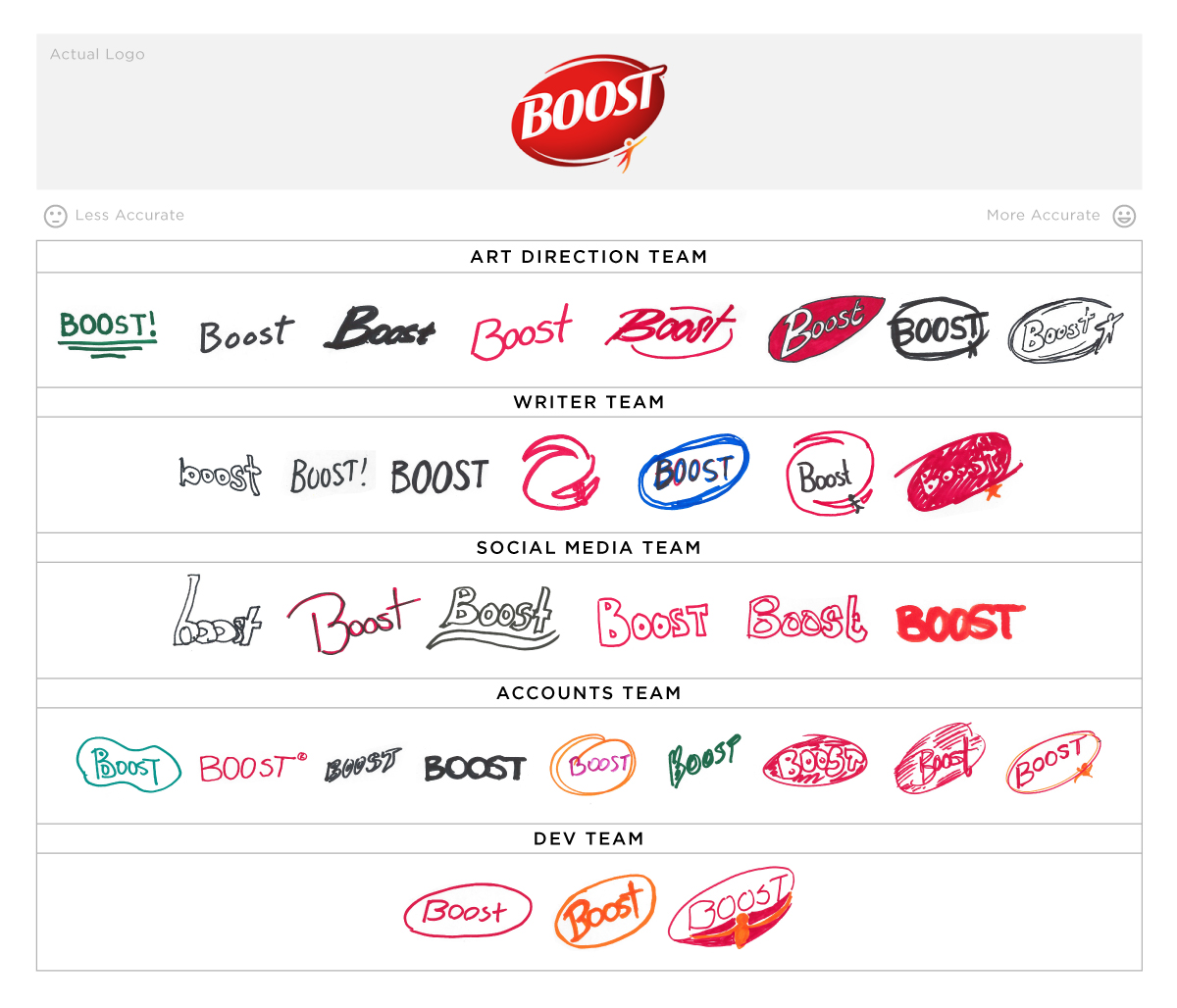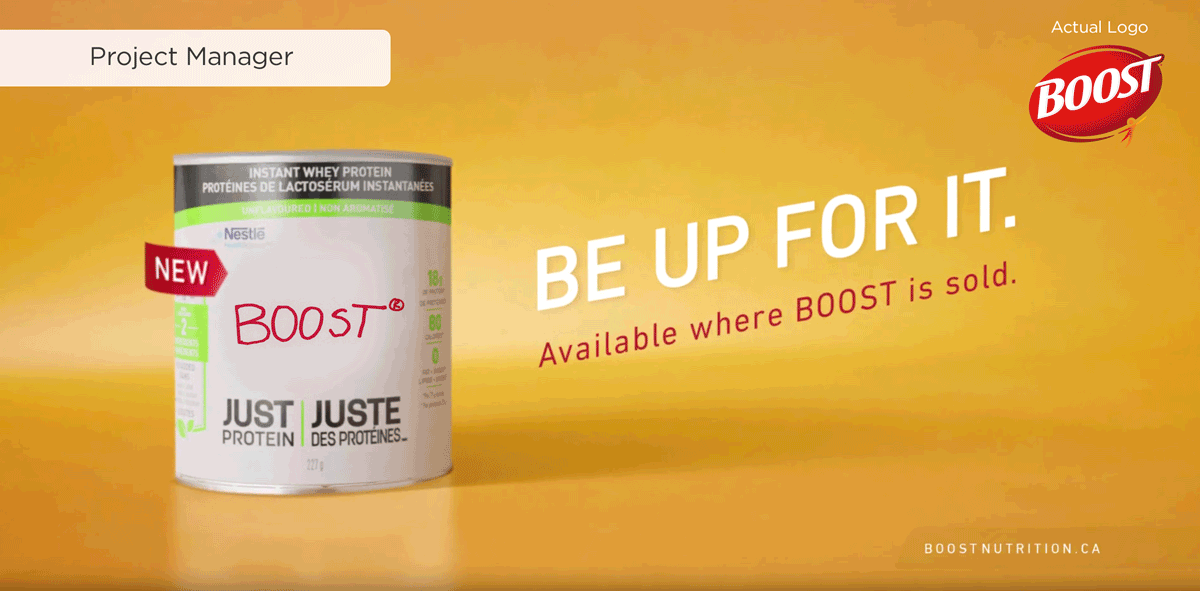 Turtles
This one was tough on people, especially the individuals close to the Turtles account. Embarrassment ensued. 25% of people used hat-wearing turtles to signify the mascot. Sighs and struggles aside, a lot of people recalled the red white ribbon pattern on the packaging, serifs in the font and the curved background flag.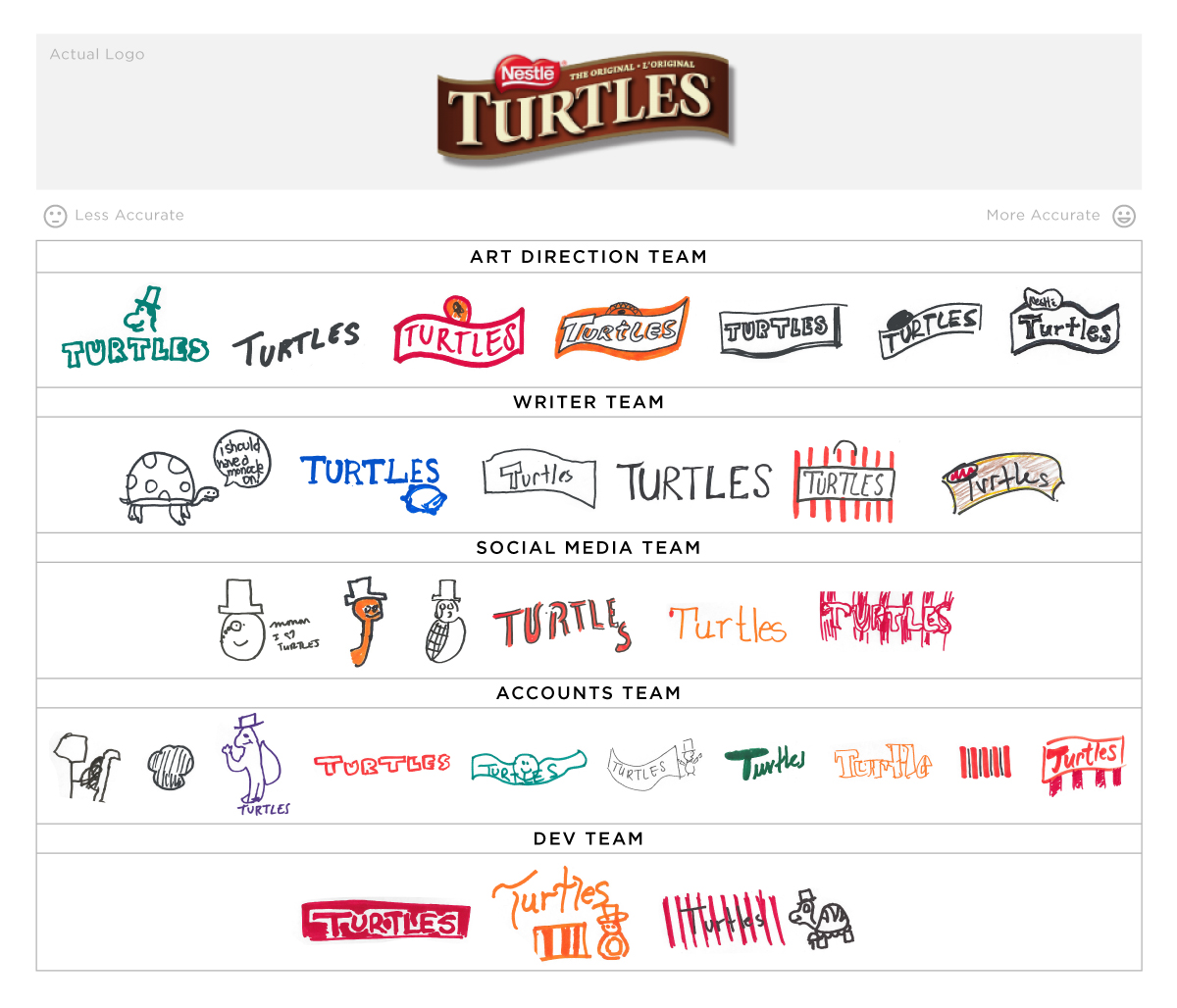 OneMethod
At the heart of this ask was to see how well we payed attention to our new rebrand. The most difficult part of the mark was figuring out how the 1 and M connected. Many logo versions were scribbled out, destroyed and redrawn here. The art direction team braved the full wordmark more than the other teams, by far.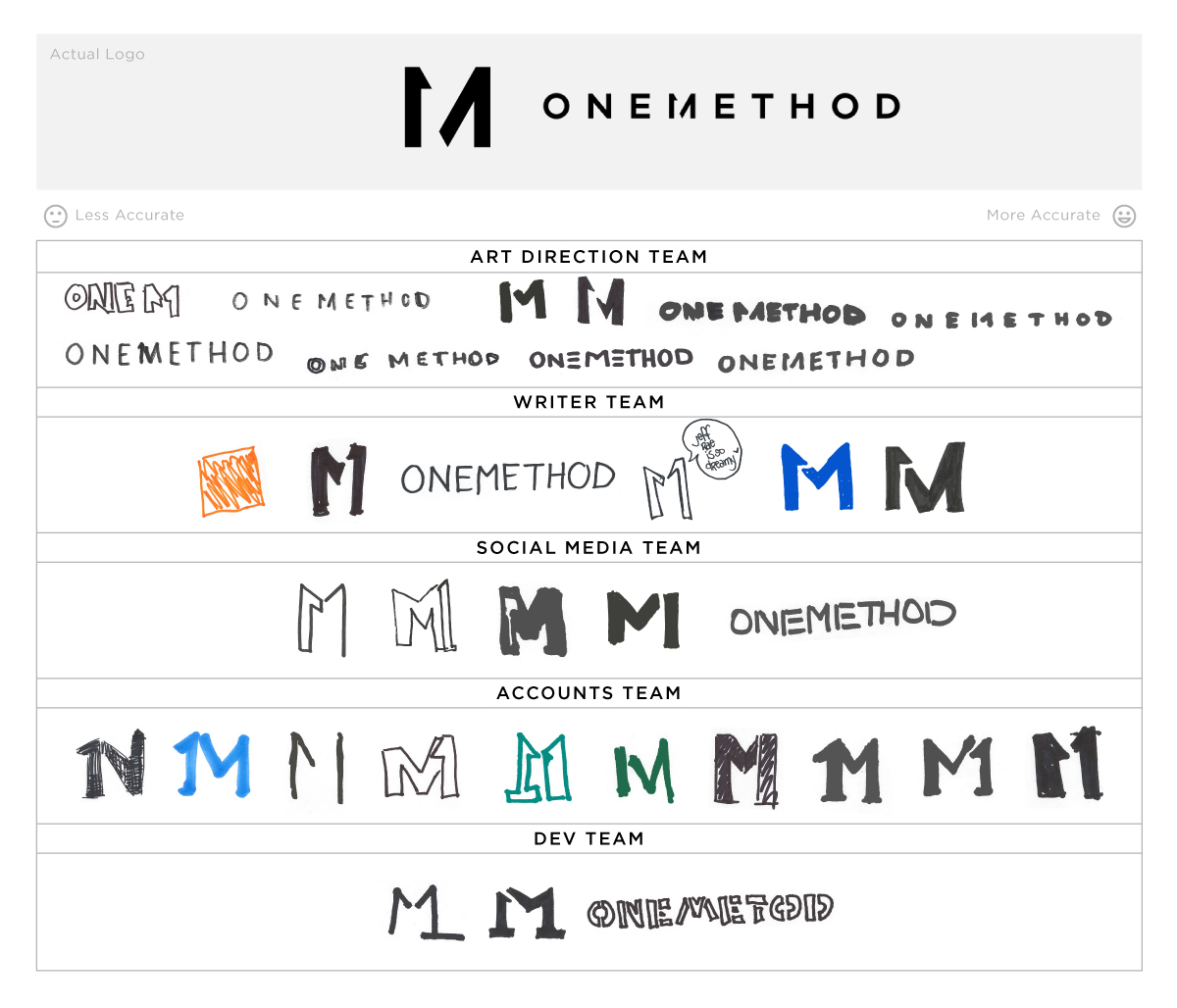 Quick Summary of Findings:
Overall, we did surprisingly well when put on the spot with no visual aids, and a time limit.
People who didn't recall well on one brand, dominated others i.e. bombed at Boost, but rocked at Turtles. How closely you've worked with a particular brand on a daily basis affected how well you did, and the likelihood of correct logo detail goes up.
If you're a creative, who for the most part already tends to think in pictures, shapes and colours, overall did better with this.
When photographic memory wasn't an option, people went with their gut feelings on colours, shapes and overall feel. If you have a photographic memory to begin with (like a couple of people seemed to) the world is your drawing.
Most people were very good at recalling brand colours—most of the teams selected correct palettes, while shapes and elements in logos were harder to recall on all fronts (e.g. La Carnita skull details).
When done in groups, some people struggled so much that they attempted to fish for information from others, subtly, which was entertaining.
When conducting the exercise in pairs, some people's ultimate goal became simply to do a better job than their 'opponent' even though it wasn't set up as a competition.
Some logos were easier to recreate than others, though, which raises at interesting question of what value is there in the simplicity or complexity of a brand mark.
This exercise was much, much harder than expected, but most importantly, everyone super enjoyed it!