Before we start, let me first provide you with some theme music for this post.
And now, before we really get into the actual art you can find hanging on the walls of the OneMethod office, I should say that I'm far from an art collector by design. Instead, I'm a designer at heart that has always appreciated modern art forms, especially those informed by golden era hip hop culture. And I suppose that as our office walls multiplied over the last 14 years, I've simply looked to cover them with stuff I like.
Here's a quick look at some of that stuff:
Starting off we have a few of my favourite pieces hanging out near my desk. There's a signed Rakim, a signed Black Thought + ?uestlove, and the classic Biggie Smalls. These three are all mixed media cutout style works by an artist named Amir Aziz. He's a friend from the west coast and I have no idea how he gets the artists to sign them.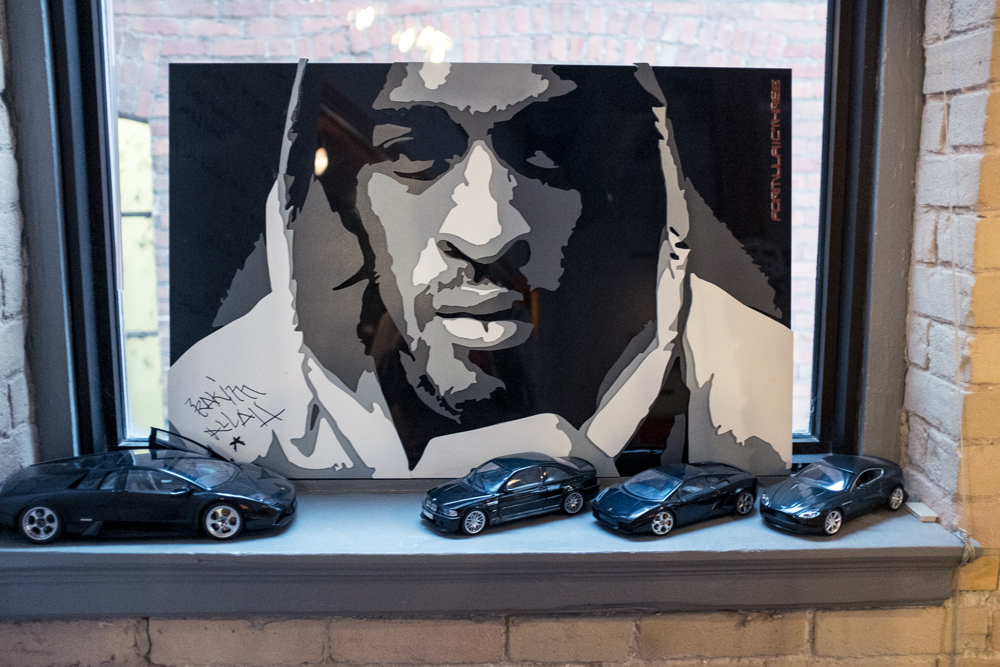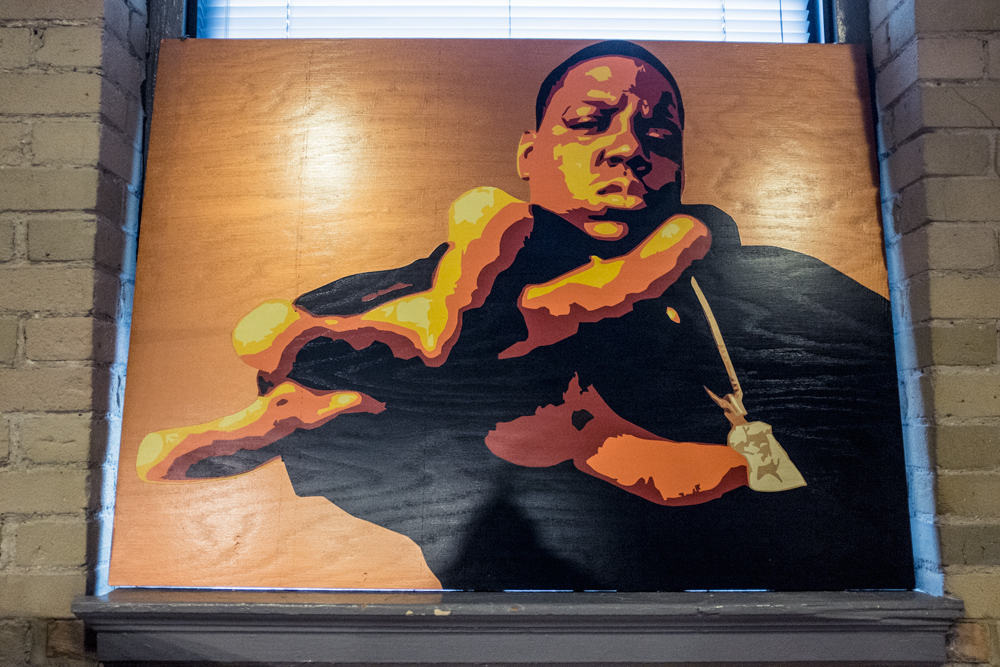 Also in my office you'll find one of the original Air Jordan posters featuring Mars Blackmon himself, Spike Lee. This is one of those pieces that has travelled through all four OneMethod offices and I believe it was part of the Weiden+Kennedy produced campaign "It's gotta be the shoes."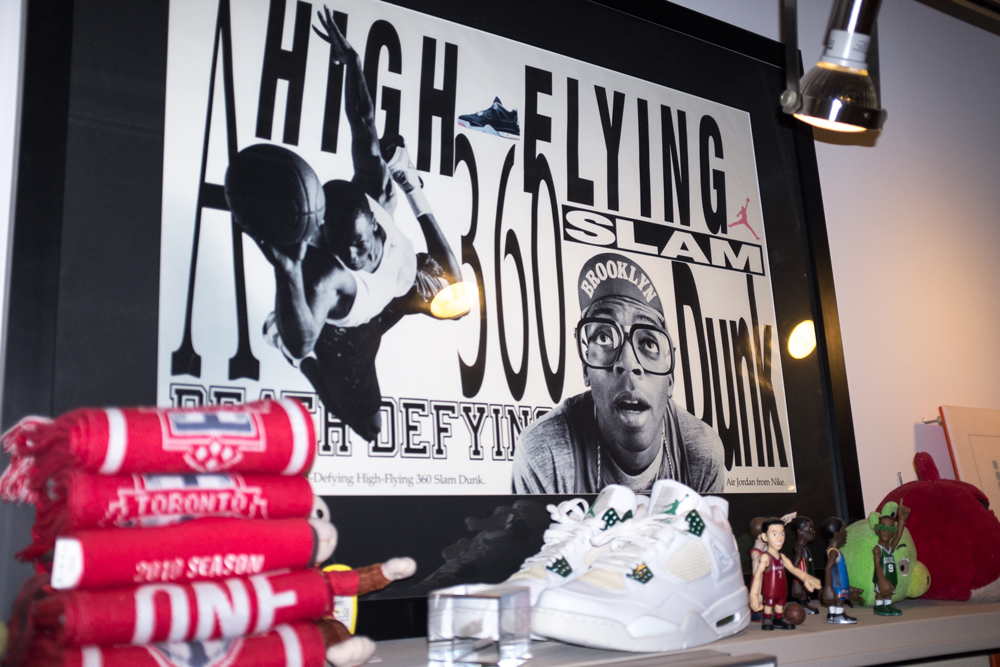 Stepping out of my office you'll notice several decals all over the place, most of them coming from Blik. The most notable one is probably the Sam Flores designed DJ Buddha. Even more notable is the fact that we had no idea it was a Sam Flores till he happened to mention it while passing through the shop one day. Again, accidental art collector here.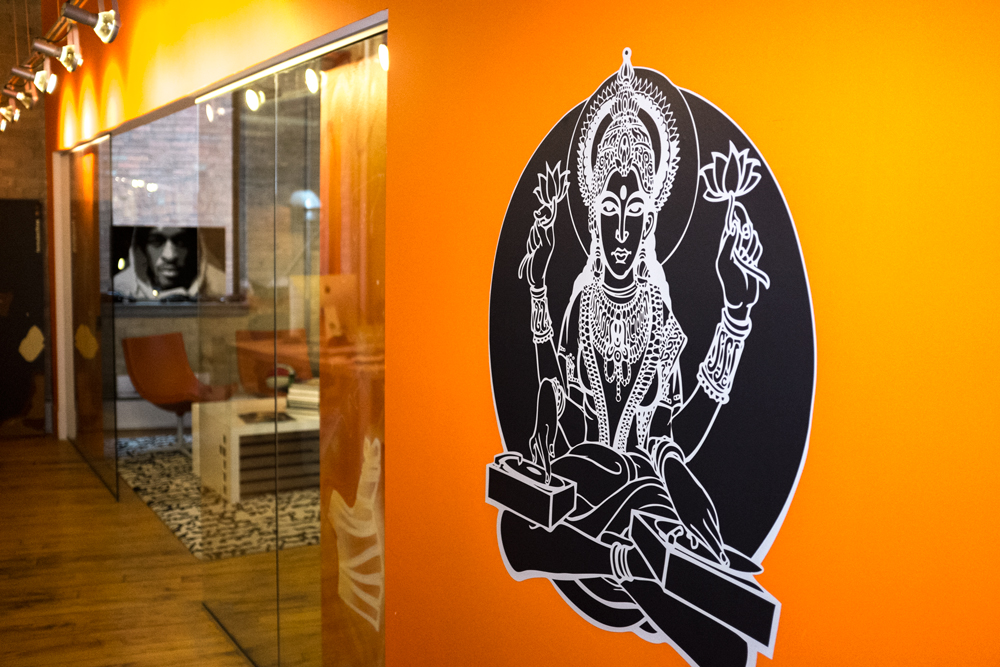 Another reoccurring piece you'll find are the 5 sets of sliding doors, each featuring murals by Toronto's notorious HSA Crew.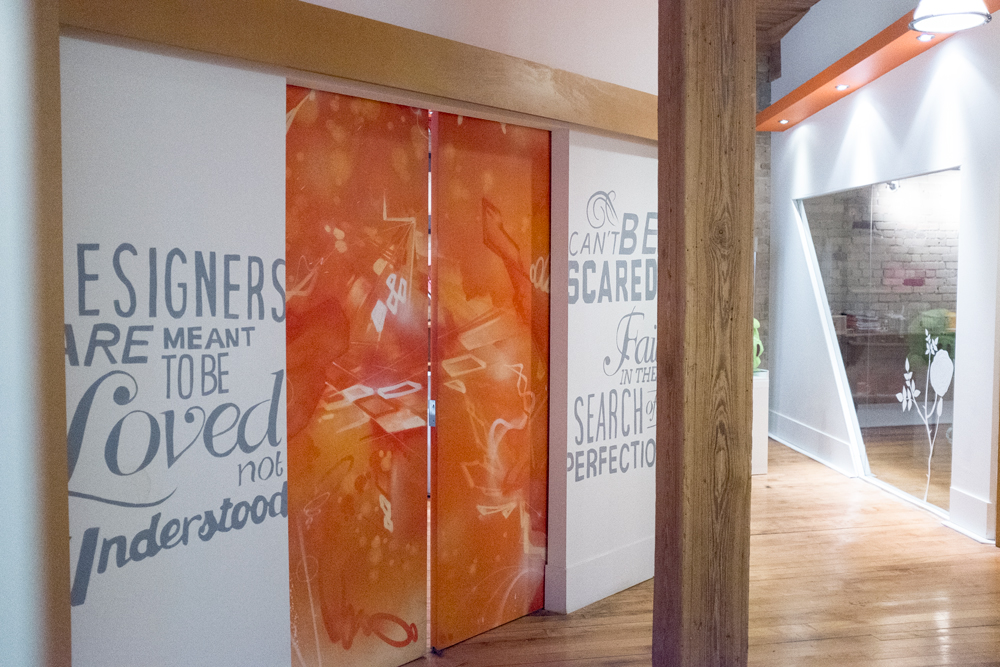 From there we take a left and step into our main boardroom – the ThinkTank – which features our largest piece. This 40 foot wide "one" mural was created by one of our writers, Max Sawka, and one of his partners-in-commissioned-crime, a fellow designer named Kyle Howard. Some folks like to try and count how many times the number "one" shows up.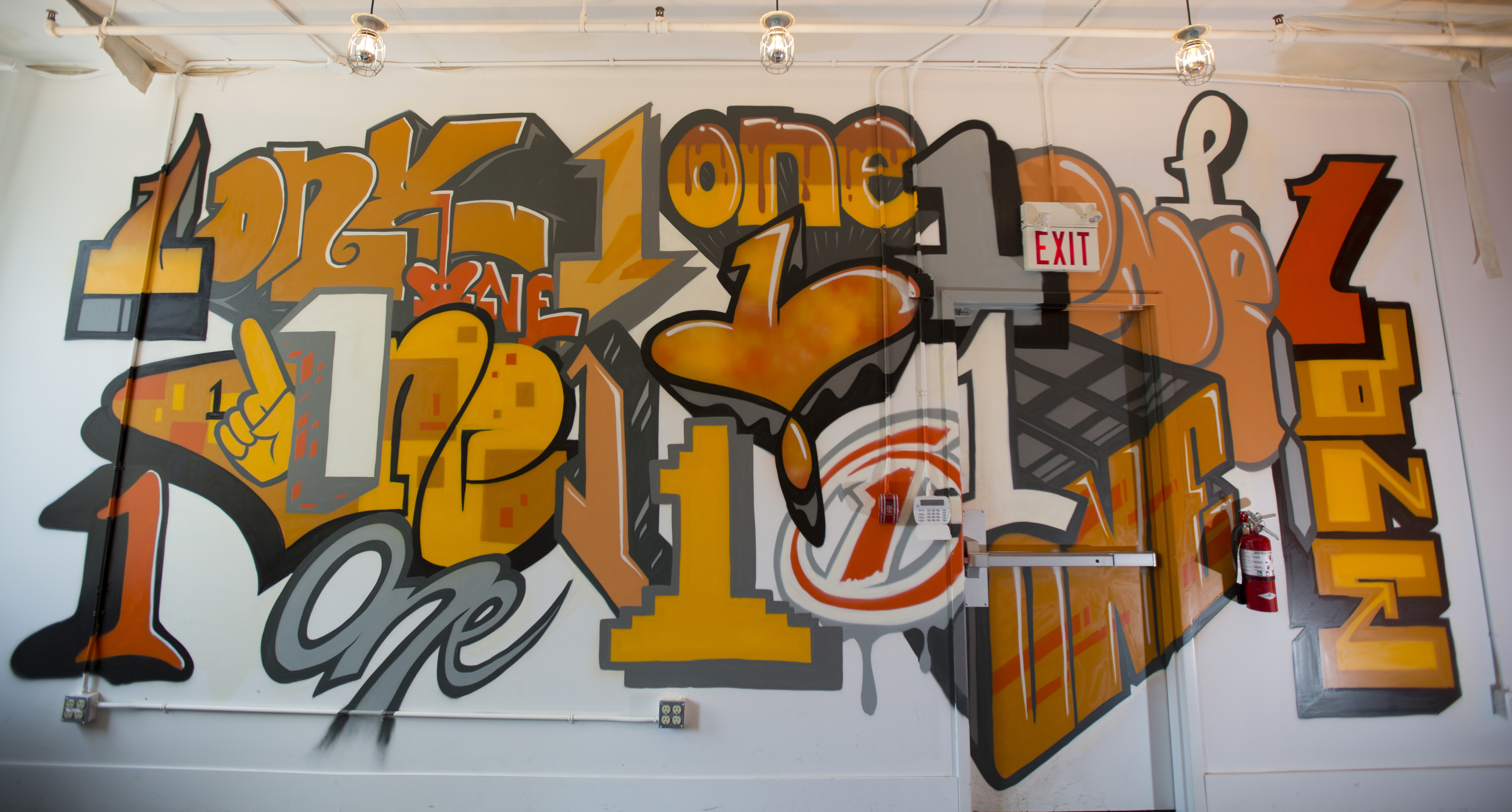 Back into the main office area there are a pair of framed Justin Bua prints. Bua was definitely a hip-hop art pioneer and his works were translated into posters that were pretty hard to avoid if you went to college/university in the late 90s. Do kids even still put up posters?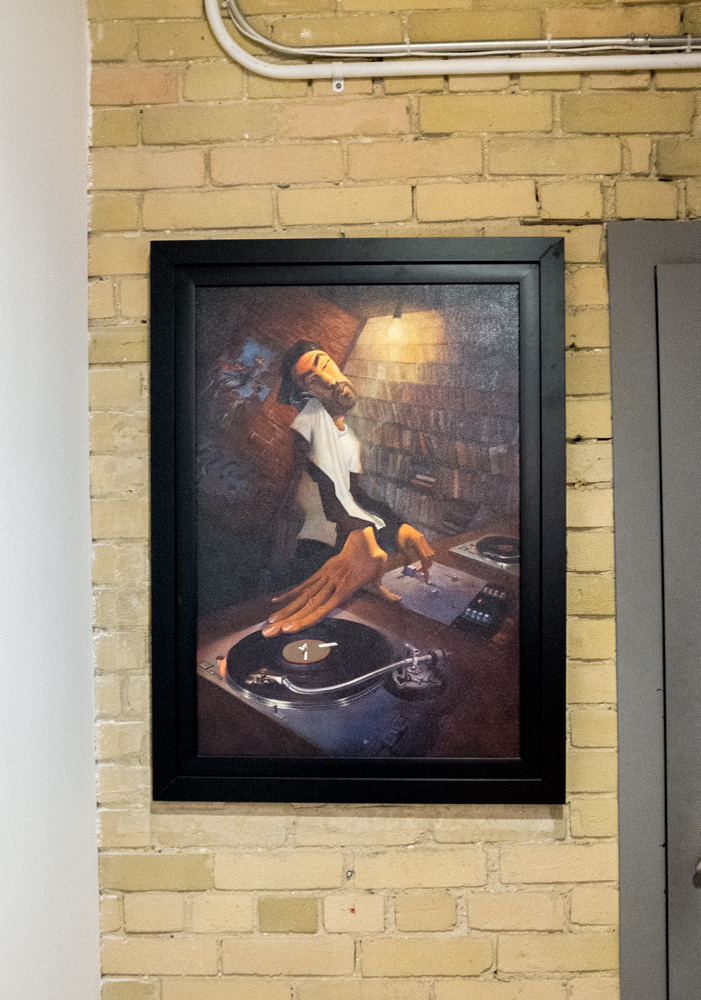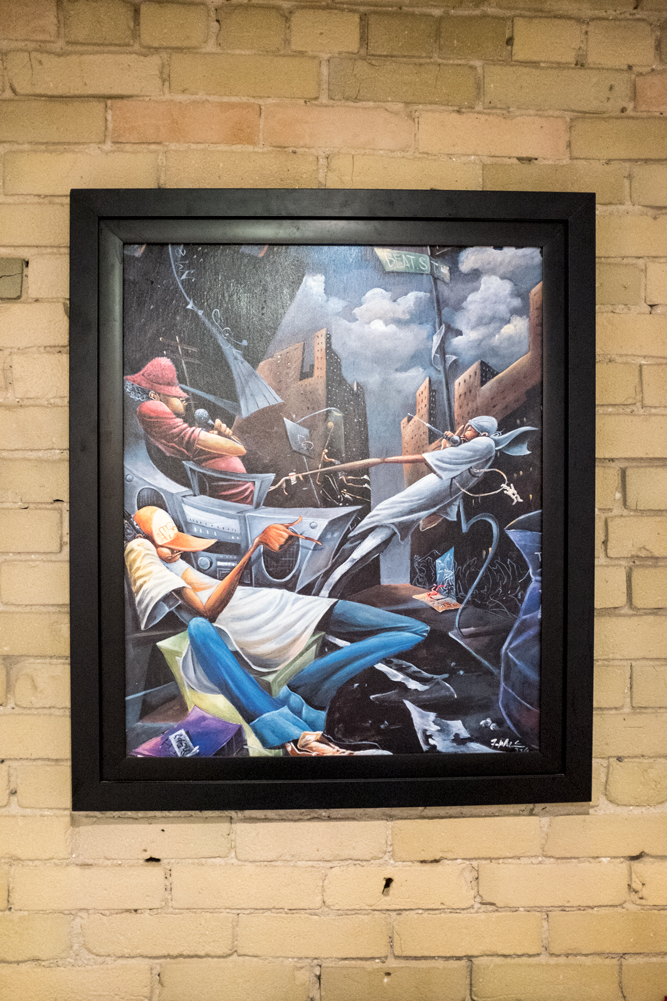 Jumping into our lounge we find the Kid's Don't Play collection from local legend Bryan Espiritu that we have shamelessly surrounded some of our awards with. And, keeping with this theme we have a gangster Bugs from Farouq Samnani. That's about all I have to say about that one, folks.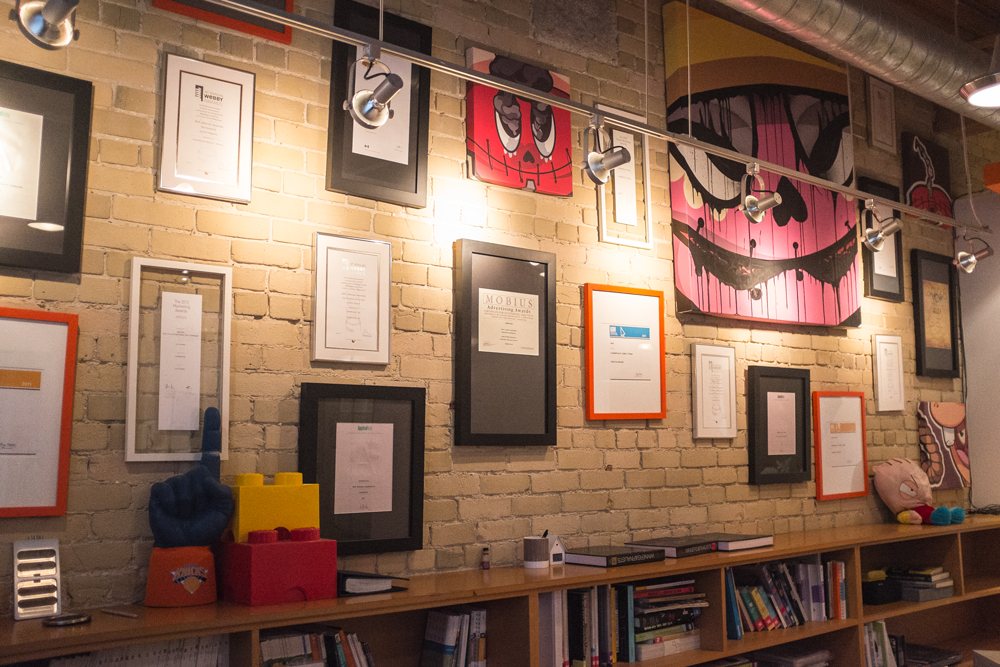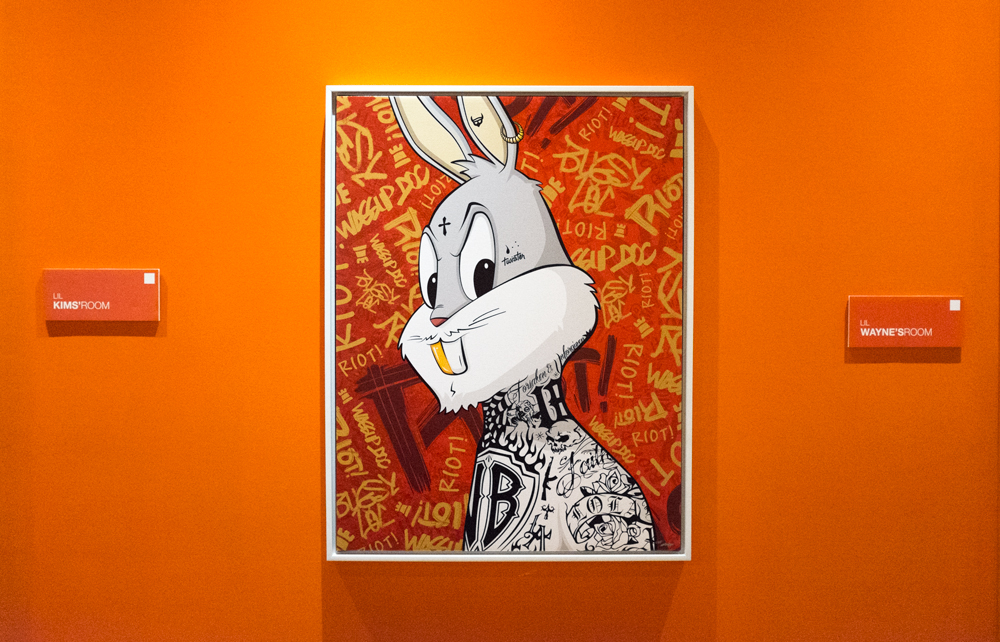 Right across from the Bugs is a collection of prints from Naturel that I recently scored from 1xRun. Both Naturel and 1xRun are blowing up these days and are worthy follows on Instagram.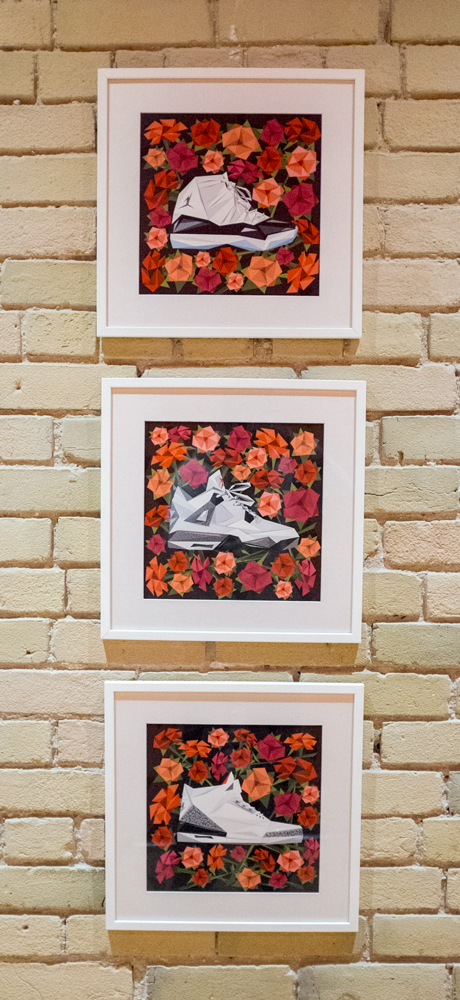 In our bathrooms we have a DOS original that we stole from La Carnita. This one is by Chris Barrett and was part of the original run of La Carnita Meatheads, a big part of the OneMethod story that allowed us to connect and collaborate with a lot of incredible street artists. And in the other bathroom we have some work by Johnny Crap, who happens to be another La Carnita alum.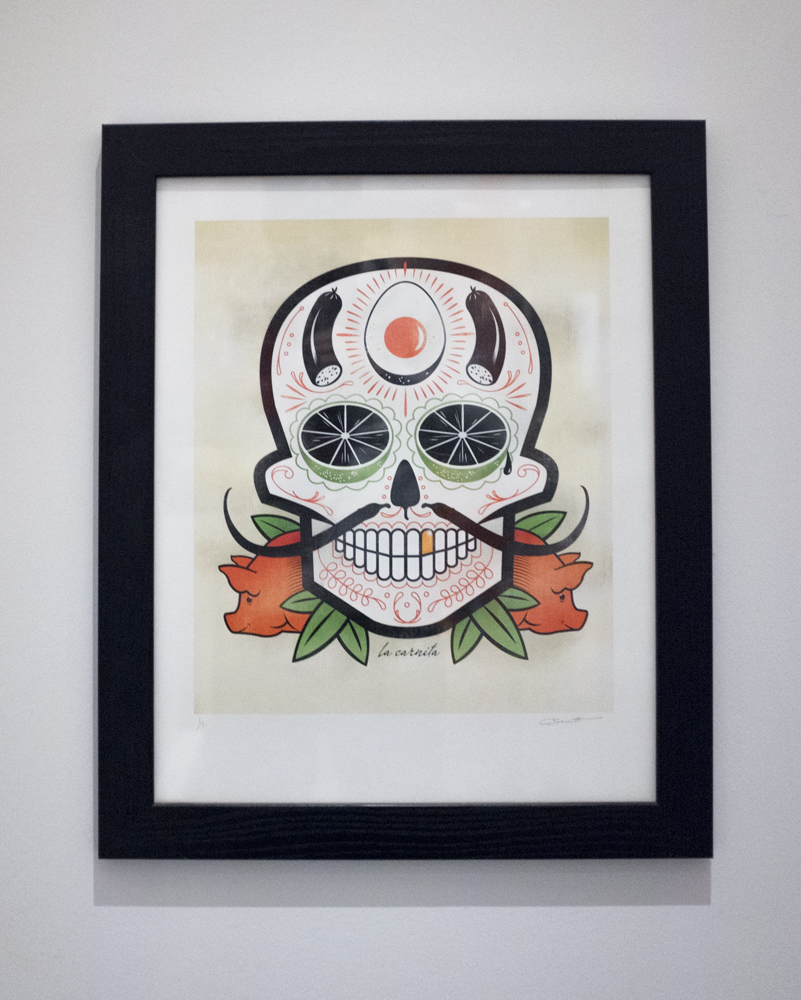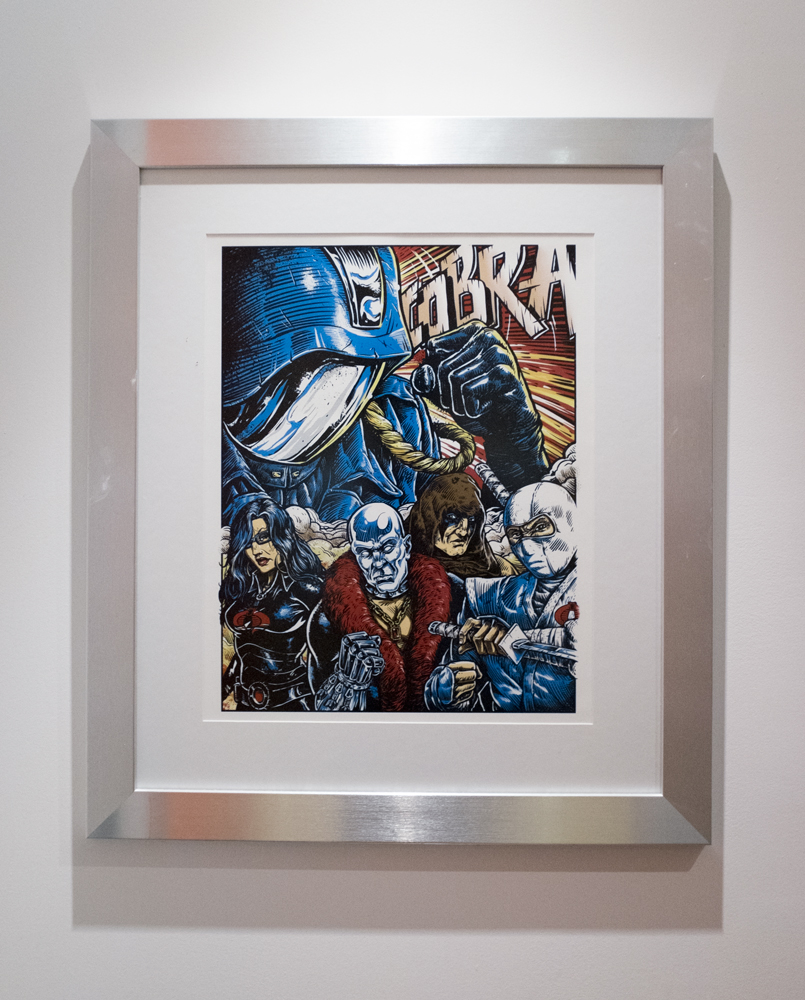 From here we move into Side B of our office, which just opened up in April of 2014. This side features two booths that play off each other and pay homage to Brooklyn's Finest. The BoomBox centres around a Jay-Z piece and the walls have more graffiti from Max + Kyle, this time including two Jay quotes that have the word "one" in them. Complimenting this booth is the HotBox, with two Biggie "one" quotes and another work by Natrel, his soon-to-be-classic, Picasso Biggie.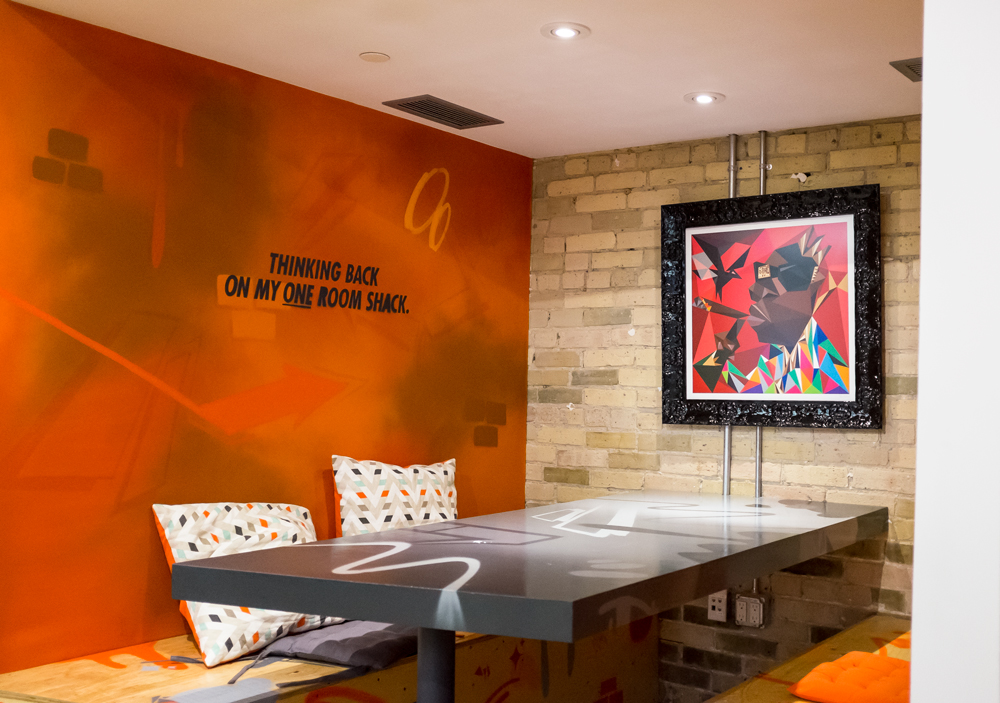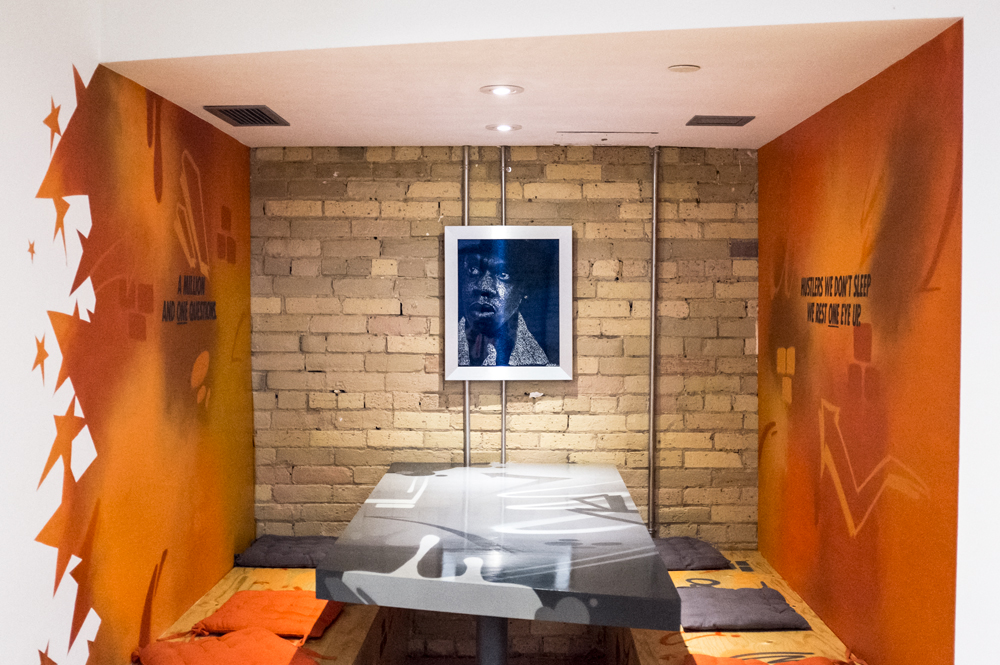 Beside the BoomBox we have Mr. Andrew Richmond's office, which has a freshly markered mural by Toronto's favourite sign painter, Andrew 'Rcade' Kidder.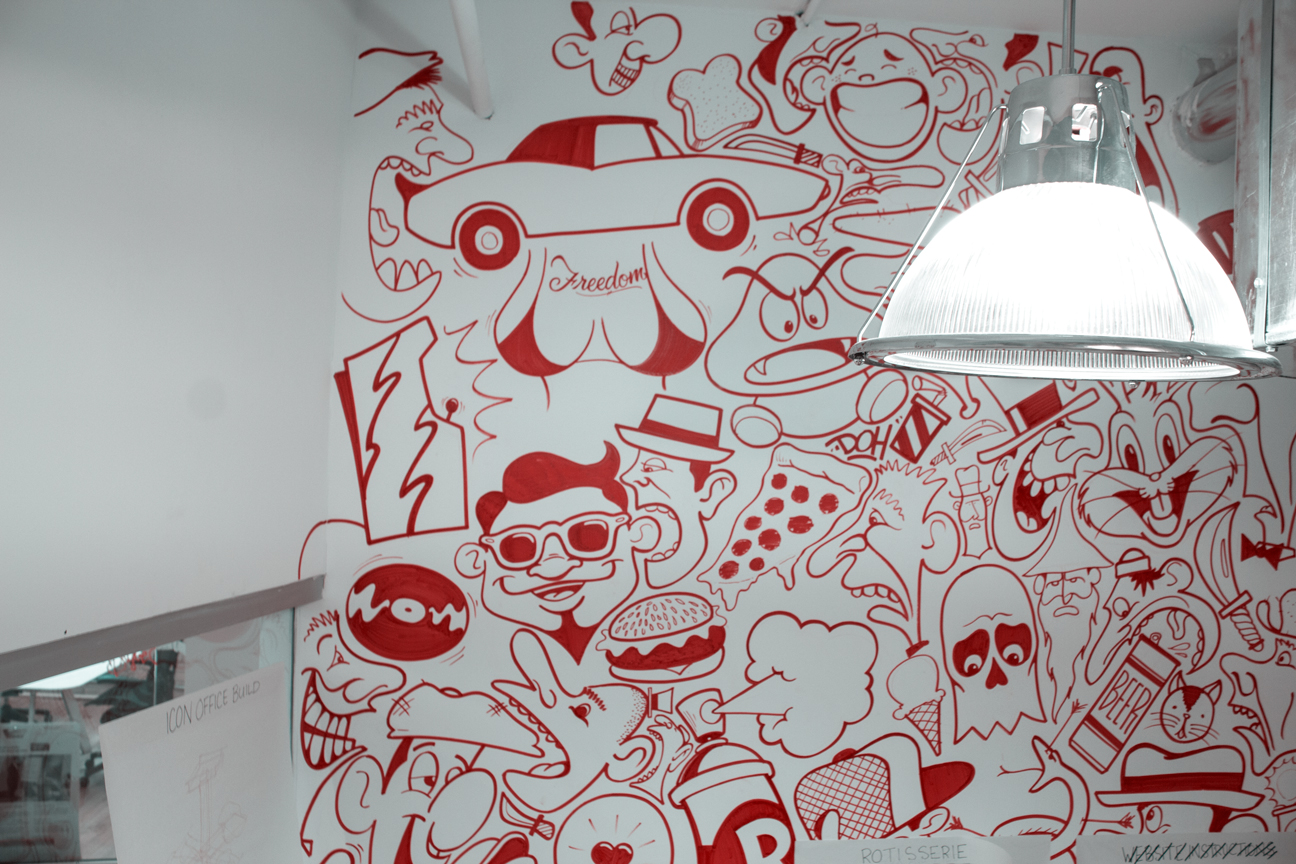 Next up we have this Obeyglitory Sheppard Fairy print and then finally, we get to our BackYard. This spot is definitely more about chilling than art, but it's worth noting that the walls feature some decals from Magic Wall and that Max + Kyle also graffiti'd up the ceiling to round out the space.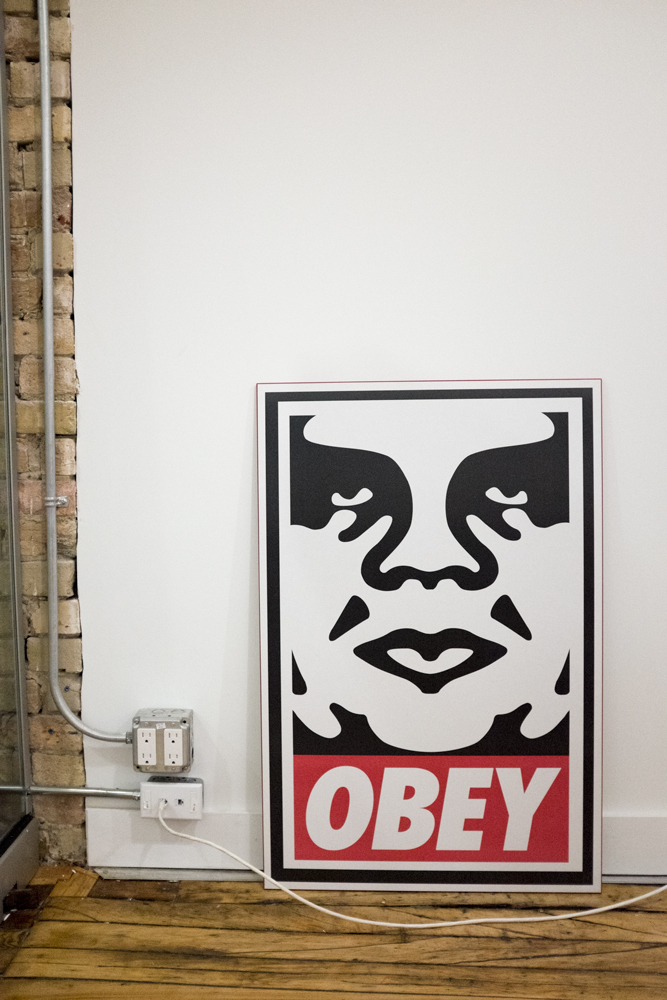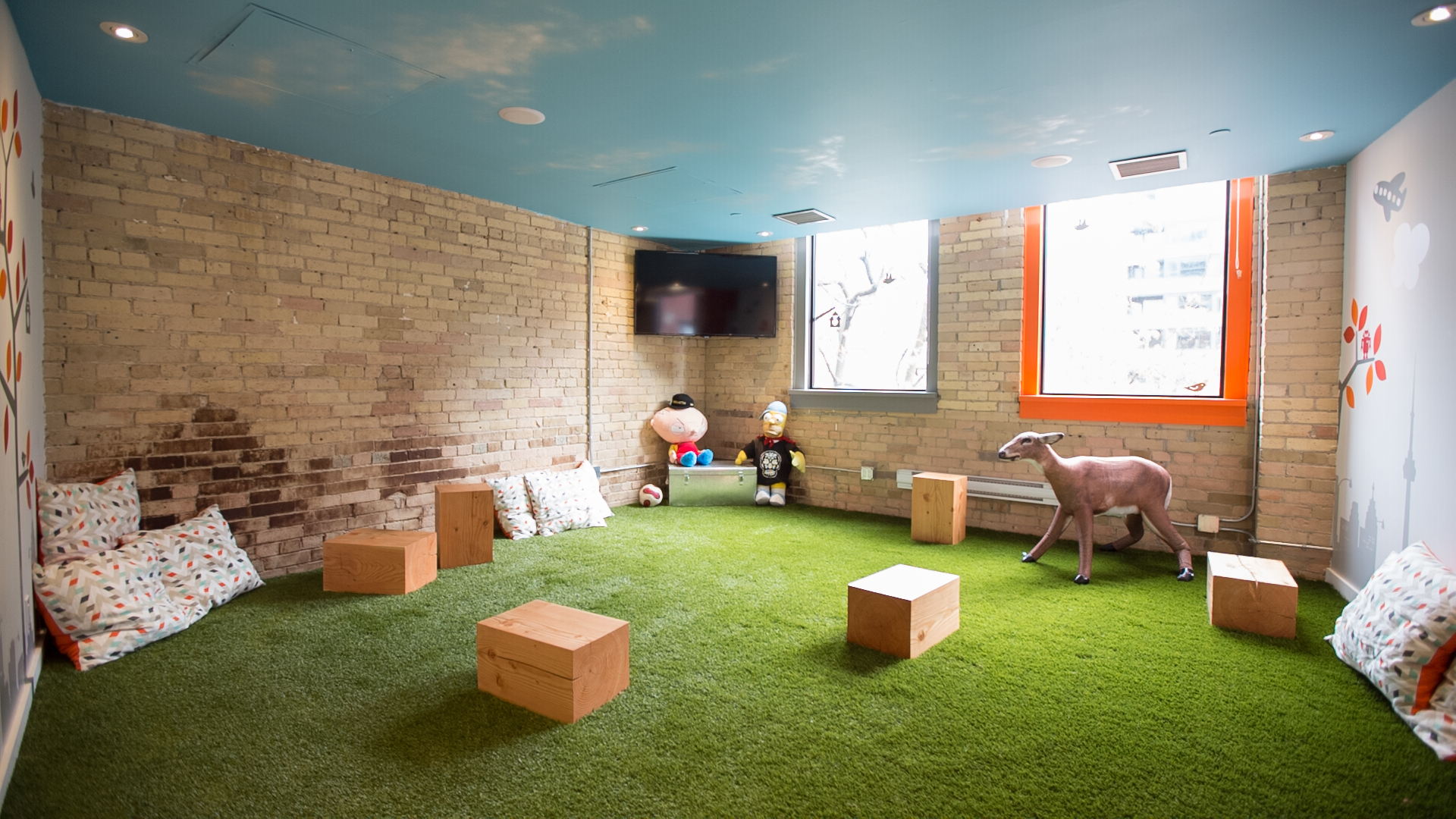 I guess that's it; until we find some more walls or maybe break some of these at an office party or aggressive brainstorm session.
Amin.