Since calling each other on the phone became weird, my usage of the exclamation point has increased tenfold. This is to avoid punctuation fights, which seem to be a growing phenomenon. Without exuberant exclamation, even an invite to a picnic on the beach at sunset can sound dry and passive aggressive.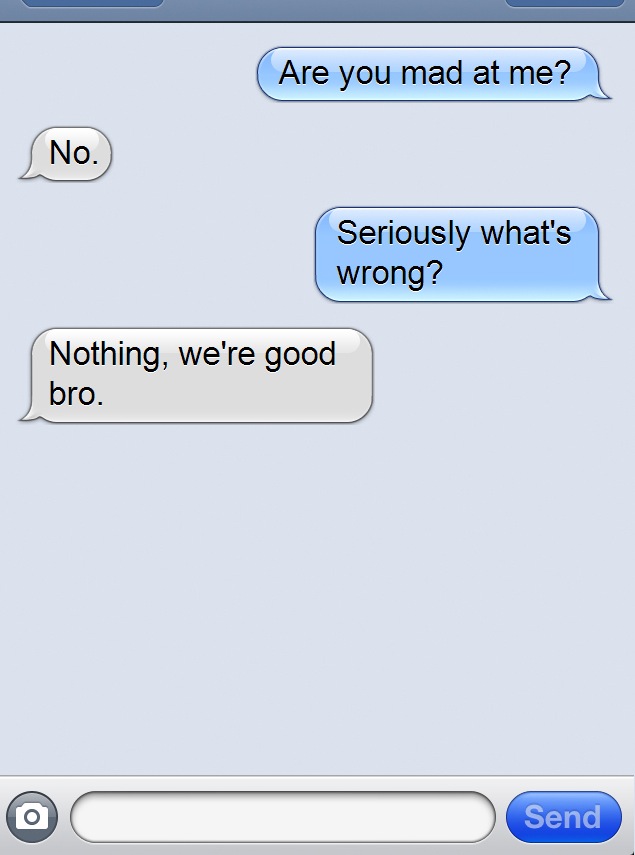 (k.)
Frequently, I find myself deciding between sounding perpetually pissed off or overly energetic (the texting dichotomy), often choosing the latter. In fact, I rarely send a text without an exclamation point, an emoji, or a completely unnecessary and random "haha" that makes no sense in the conversation.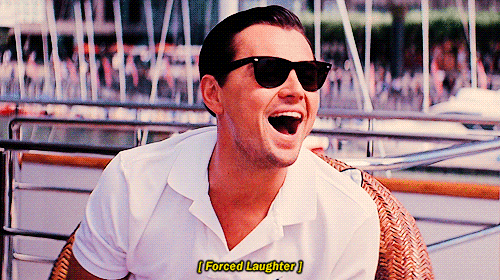 ("I'm sorry your goldfish died haha")
So why do we have to actively work not to be perceived as passive aggressive assholes? Why do these miscommunications occur? It turns out that communication relies much more strongly on body language (55%) and tone (38%) than it does on actual content (7%). In face-to-face interaction, we are subconsciously (and consciously for you over-analyzers) decoding every inflection, blink, and twitch, as mirror neurons in our brains fire when certain emotions are detected. In text-based communication, all we have to go off of is the content, which can be easily misinterpreted, causing unnecessary fights and copious amounts of social media anxiety. Because really, the only way to be sure that someone is pissed at you is if they text you "k". Therefore, it's not surprising that people who use emojis have more sex.
But if emojis were only invented in the early 2000's, how did F. Scott Fitzgerald, Hemingway and Shakespeare do it. Is texting ruining our ability to convey tone through writing? Or are we ruining texting by getting lazy and jumping on the emoji bandwagon? (Because I am not looking forward to the day that The Great Gatsby gets an emoji translation…or am I?)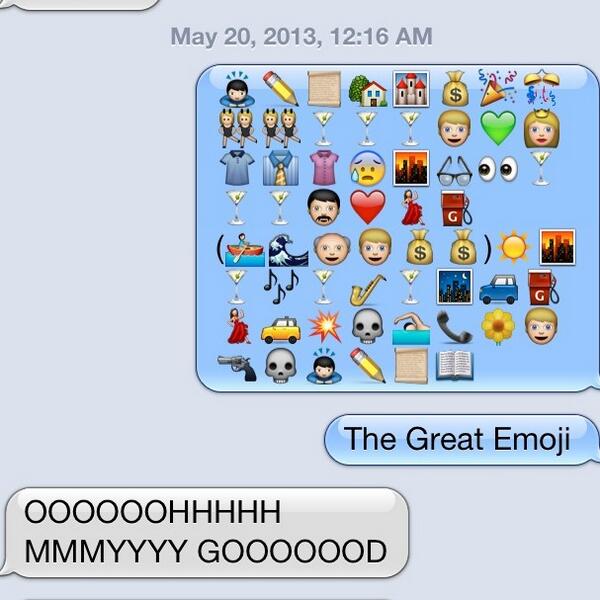 (F. Scott Fitzgerald would be so proud*)
And it's not just regular people that have joined the punctuation fight club. Heavy hitters like Pizza Hut> are in it to win it (Cannes Grand Prix's!). Speaking of which, you can now order a pizza using an emoji, proving that technology is indeed moving in the right direction. Furthermore, Chevy just put out a press release entirely made up of emojis, making a lot of people aware of how illiterate they are becoming. Even WWF has gotten in on the action, creating a donate-able keyboard. These brands have broadened the definition of emojis, making them more than just tone-conveying tools, but a language in and of itself.
However, despite this, some things are still missing from our visual vocabulary: a symbol for sarcasm* and a taco emoji. With the increasing popularity of emojis for both individuals and brands, I see social media developing in a way that embraces them, allowing us to find individualized voices in 160 characters and escape the texting dichotomy.