You know what I respect about Gordon Ramsey? He has a very deep passion for what he does and a very clear definition (in his mind) of perfection. Love him or hate him, his vision is admirable — even if his approach is a bit jarring at times (to put it lightly).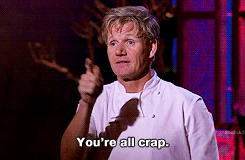 By no means am I trying to compare my management style to Mr. Ramsey's, but there are some key guiding principles that I believe I share with him in our pursuit of the holy grail of success. As you embark on the next part of your career on our team, I'd like you to be on board with some of the guiding principles that I look for from new (and existing) members of our close-knit crew.
There is no corporate ladder here
If you're concerned about job titles, this is probably not the place for you. Anyone here can have a voice if they step up to the mic. I would like for you all to have the title of CEO, because that's the way I want everyone on the team to think. Let your inner-entrepreneur come out.
I'm ok with being your stepping-stone
I know this will not be your last job and I am okay with that. My commitment to you is to help strengthen your skill set and strengthen your portfolio/resume, as you'll strengthen ours. Don't look at your time here as job, but an opportunity. This concept is a big difference in mindset, so always be aware of it.
This is not a 'job'
Don't do this for the paycheck or start watching the clock. If either of those things are your primary motivation, this is probably not the place for you. If you do this for the love, we will make sure to provide an environment and opportunity to flex your creative and strategic muscle. You will get what you put in, plus more, so make sure you want it bad enough.

Leave your ego at the door
This one's pretty self explanatory, so I'll leave it at that.

Have ridiculously high standards
I have been plagued with this disorder for many years now — often times to the detriment of better business judgement. It is contagious (in most cases), and you will eventually be plagued with it as well. You need only accept your fate and produce the highest quality of work possible to help ease the pain.

Take ownership
This is a boutique shop. Everyone needs to have an entrepreneurial mindset. We do whatever it takes to make things happen. Don't allow yourself to be defined by your job title. That's a pretty big departure from the expectations of most places, so be prepared to be the boss of many things big and small.

Sharpen your pencil
Continuous learning is not an option. It is a must. And this isn't just for my sake; it's more importantly for yours. You need to stay relevant and grow with the industry and the company. Becoming stagnant can destroy a career. Stay motivated to be the best.

Think
I don't mean to be condescending here. I just want you to use the same thinking you would use in your everyday life in your work. Think things through fully and always ask yourself how you can do better than just the expected — and do it.

Good is the enemy of Great
I truly believe this, and I will definitely call you out on this. All I want is for you to be better than you think you are and you'll have the entire OneMethod team to help you get there. That doesn't mean we won't ever settle for good (sometimes reality sets in), but my goal is to always aim for great — and I know you can/will too.
Welcome to the family
We've had people come and go… and come back again. And I have made some lifelong friends with some of those very people. To me, work is life and I look forward to spending the next while with you (however long that may be). Let's work on some cool stuff together!